Child Psychologists: What they do and how to become one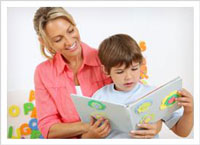 Child psychologists assess and treat children and adolescents. They help children cope with stresses like divorce, death, and family or school transitions. Their clientele may include children with a variety of developmental issues, from learning disabilities to severe mental illness. A partial list of problems treated includes attention deficit disorder, autism, obsessive compulsive disorder, phobias, and adjustment disorder. A part of the job is arriving at the best diagnosis when a complex set of symptoms is presented. More so than other mental health professionals, psychologists are experts in conducting psychological tests.
<!- mfunc feat_school ->
Sponsored School(s)
Featured Programs:
Capella University is accredited by the Higher Learning Commission and offers an Online Bachelor's in Psychology. This program is modeled around the American Psychological Association (APA) Guidelines. APA does not accredit undergraduate psychology programs. Capella University, also offers several Online Master's and Doctoral programs in Psychology including both clinical and non-clinical specializations. Visit School's Website.

---

New York University - Master of Arts in Counseling and Guidance online - No GRE required. MPCAC-accredited. Complete in as few as 18 months. Bilingual concentration available. Scholarships available.Click Here to request information today.

---

Pepperdine University - Master of Arts in Clinical Psychology with an Emphasis in Marriage and Family Therapy online - Prepare to pursue licensure as an LMFT or LPC in as few as 24 months. No GRE required. Visit School's Website.

---
<!- /mfunc feat_school ->
Child psychology is one of several psychological specialties that focuses on the formative years. Clinical psychologists typically receive more training in providing long-term mental health therapy than do school psychologists. Their programs are more clinically focused than those of developmental psychologists. Clinical child psychologists are considered health service providers. However, their training also prepares them in indirect roles, as consultants or researchers.
A closely related specialty is pediatric psychology; pediatric psychologists work in medical settings. Child psychologists may work in outpatient centers, government agencies, or hospitals. Some are in private practice.
Child Psychologist Education and Training
Child psychology is a sub-specialty of clinical psychology. Individuals pursue a PhD in clinical psychology. They do a one year internship before receiving their doctoral degree. After graduation, they practice an additional year under supervision before achieving full licensure.
Grand Canyon University (GCU) offers a variety of Master's in Psychology programs modeled after the standards and recommendations set by the American Psychological Association with emphases in: Forensic Psychology, General Psychology, GeroPsychology, Health Psychology, Human Factors Psychology, Industrial and Organizational Psychology and Life Coaching. Three Bachelor's in Psychology programs are also offered. Click here to learn about GCU and their programs.
Southern New Hampshire University (SNHU) offers online Bachelor's and Master's in Psychology programs with several emphases to select from as well as a CACREP accredited online Master's in Counseling. Click here to learn about SNHU and their programs.
Click Here to learn more about psychology education options based on your current educational attainment.
The Society of Clinical Child & Adolescent Psychology (Division 53 of the American Psychological Association) offers some advice to students about selecting a graduate program (https://www.clinicalchildpsychology.org/node/192). It is not necessary that the school offer a separate track in child psychology. However, it is imperative to train in the discipline. A person who is interested in a career that involves child psychology research should find a primary mentor who is in the discipline. One may have a better educational experience if there are multiple faculty members with expertise in this area; even the number off child psychology students can be important. Doctoral education in turn influences internship opportunities and postgraduate supervised practice opportunities.
Those who know they want to pursue child psychology can seek out programs with a concentration. There are even programs that combine clinical and school psychology.
The Society of Clinical Child & Adolescent Psychology offers a mentorship programs for undergraduates considering pursuing child psychology at the graduate level (https://www.clinicalchildpsychology.org/StudentMentorship). Division 53 has put together a list of internships and postdoctoral fellowships that may interest prospective child psychologists (https://www.clinicalchildpsychology.org/internships_postdocs).
Child Psychologist Licensing and Certification
Clinical child psychologists are state licensed. The psychology license may reflect that one is a clinical psychologist" or merely a "licensed psychologist". Many jurisdictions require psychologists to describe their areas of competence as part of the licensing process. Some state boards even discuss these as part of an oral examination process.
National board certification is different than licensing. It does not grant the right to practice, but does recognize expertise in specialty areas. The American Board of Clinical Child and Adolescent Psychology (ABCCAP), a member board of the American Board of Professional Psychology, grants the Clinical Child and Adolescent Psychology credential. A candidate must meet the generic requirement for ABPP diplomate status; this includes graduation from a program that is accredited or meets similar criteria.
A candidate who completes a residency in child and adolescent psychology may be eligible after completing as little as one year of postgraduate practice (http://www.clinicalchildpsychology.com/eligibility). The Board notes that pediatric psychologists are eligible.
The child psychologist will submit practice samples related to his or her child psychology practice and go through an oral examination process.
Additional Child Psychologist Resources
The Society of Pediatric Psychology (Division 54) is a professional resource for individuals in pediatric psychology (http://www.apadivisions.org/division-54/membership/index.aspx).