Becoming a Psychologist in Wyoming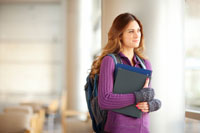 A psychologist license is the culmination of years of preparation. You will be evaluated – and face competition – at many steps along the way. Here are some tips to help you.
<!- mfunc feat_school ->
Sponsored School(s)
Featured Programs:
Capella University is accredited by the Higher Learning Commission and offers an Online Bachelor's in Psychology. This program is modeled around the American Psychological Association (APA) Guidelines. APA does not accredit undergraduate psychology programs. Capella University, also offers several Online Master's and Doctoral programs in Psychology including both clinical and non-clinical specializations. Visit School's Website.

---

New York University - Master of Arts in Counseling and Guidance online - No GRE required. MPCAC-accredited. Complete in as few as 18 months. Bilingual concentration available. Scholarships available.Click Here to request information today.

---

Pepperdine University - Master of Arts in Clinical Psychology with an Emphasis in Marriage and Family Therapy online - Prepare to pursue licensure as an LMFT or LPC in as few as 24 months. No GRE required. Visit School's Website.

---
<!- /mfunc feat_school ->
If You Are a High School Student or Undergraduate
Step 1: Take a solid college prep curriculum. Psychology coursework builds on a foundation in the laboratory sciences as well as the social sciences. AP psychology or statistics coursework may give you a slight head start.
Meanwhile, look into volunteer or other service activities. Organizations like Special Olympics Wyoming welcome youth volunteers.
Step 2: Enroll in the university and begin taking general studies and psychology courses. Many graduate programs like to see that you have at least a minor (or equivalent) in psychology; if you major in psychology, you will have more opportunity to explore sub-disciplines.
Step 3: Go beyond minimum degree requirements. It is especially important to get research experience. Your department website is a good starting point; the American Psychological Association is another resource. Participation in a psychology club or honor society, meanwhile, can help you stay involved with service activities.
You may begin preparing for the GRE and brainstorming your personal statement as early as your junior year.
If You Have a College Degree
Step 4: Research doctoral programs. You can expect an APA-accredited program to meet licensing requirements. If your program is not APA-accredited, make sure that it meets the standards of the Wyoming Board. If you are willing to relocate, you will find a plethora of options. Some programs use a mentorship model. Programs that are heavy on research often favor candidates whose interests and past experiences are aligned with those of faculty.
Step 5: Allow plenty of time for the application process. You will need to take at least the general portion of the GRE. Schools have different policies regarding the psychology subtest. The University of Wyoming considers it especially important for applicants who did not earn bachelor's degrees in psychology.
If you are concerned about being accepted to a doctoral program in Psychology after completing your bachelor's degree due to lower or insufficient academic achievement, you may want to apply to master's programs first.
Capella University is accredited by the Higher Learning Commission and offers several online bachelor's, master's and doctoral programs in psychology including both clinical and non-clinical specializations. Capella University also offers three online CACREP-accredited programs: MS in Clinical Mental Health Counseling, MS in School Counseling, and PhD in Counselor Education and Supervision, as well as a COAMFTE-accredited program, MS in Marriage and Family Therapy. Click here to contact Capella University and request information about their programs.
Step 6: Complete core and specialty coursework, research requirements, and practicum experiences. You may have the opportunity to complete a pre-internship. You will be providing psychological services under university supervision. This experience may be credited toward your supervised practice requirement. (However, be aware that not all states will accept the experience as license qualifying.)
Step 7: Secure an internship. You typically need to spend some time preparing application materials and researching prospective internships – it's a competitive process. Wyoming will accept internships that are APA-accredited or hold membership in the Association of Psychology Postdoctoral and Internship Centers (APPIC). Other internships can be accepted if they meet all standards found in state statutes and rules.
Your performance as an intern will be evaluated before the Board.
Step 8: Secure a position. If you have not yet met your supervised practice requirement when you complete degree requirements, make sure that you have postdoctoral supervision that meets Board standards. You may opt for an APA or APPIC postdoctoral residency or for more traditional employment. If you take a qualifying position in a community mental health center, you will be issued a provisional license. If you don't qualify, you can be authorized to work as a psychological resident. In either of these cases, you will work under a supervision agreement on file with the Wyoming Board.
Step 9: Fulfill licensing requirements. You will need to pass a series of examinations. The Examination for Professional Practice in Psychology (EPPP) is administered nationally. The jurisprudence examination is state specific.
*Find more detailed psychologist licensure information for Wyoming here.
Licensing Agency
Wyoming Board of Psychology plboards.state.wy.us/psychology/