Becoming a Psychologist in West Virginia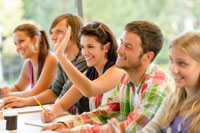 West Virginia is one of just a few states that licenses psychologists with degrees at the master's level. However, you can expect more lifetime opportunities with a doctoral degree. You can also expect a shorter path to full licensure!
<!- mfunc feat_school ->
Sponsored School(s)
Featured Programs:
Capella University is accredited by the Higher Learning Commission and offers an Online Bachelor's in Psychology. This program is modeled around the American Psychological Association (APA) Guidelines. APA does not accredit undergraduate psychology programs. Capella University, also offers several Online Master's and Doctoral programs in Psychology including both clinical and non-clinical specializations. Visit School's Website.

---

New York University - Master of Arts in Counseling and Guidance online - No GRE required. MPCAC-accredited. Complete in as few as 18 months. Bilingual concentration available. Scholarships available.Click Here to request information today.

---

Pepperdine University - Master of Arts in Clinical Psychology with an Emphasis in Marriage and Family Therapy online - Prepare to pursue licensure as an LMFT or LPC in as few as 24 months. No GRE required. Visit School's Website.

---
<!- /mfunc feat_school ->
If You Are a High School Student or Undergraduate
Step 1: Take college prep and honors coursework. Use electives or extracurricular activities to explore career interests. You can join the Health Occupations Students Association (HOSA); competitions allow you to develop your speaking and interviewing skills and explore your chosen health profession. You may even have the opportunity to join the American Psychological Association as a student affiliate; you do have to be taking psychology coursework. Volunteer work is another good option. You can find opportunities on the site of Volunteer West Virginia.
Step 2: Begin university studies. It can be a good idea to do an undergraduate major in psychology; some schools have a track especially for students who will be going on to PhD or professional programs. Having expertise in a particular branch of psychology can strengthen your application; so can supportive coursework in other disciplines. Look ahead to see what courses will be expected.
Step 3: Maintain good grades during your undergraduate years. West Virginia University notes that applicants at the doctoral level must have a GPA of at least 3.0 to receive consideration; most admitted students have at least a 3.5. These standards are on a par with those of many other select schools.
Step 4: Build your resume. Doctoral programs typically require some research experience. You may begin by browsing faculty profiles; faculty members often take on undergraduate assistants. You may have the opportunity to enroll in independent study or thesis courses. You may also have the opportunity to complete one or more field placements.
If You Have a College Degree
Step 5: Prepare for graduate school. You will need to take a graduate school admission test: the GRE. You may need to take the GRE psychology subtest. In some cases, it is optional but can strengthen your application (particularly if you were not a psychology major).
If you are concerned about being accepted to a doctoral program in Psychology after completing your bachelor's degree due to lower or insufficient academic achievement, you may want to apply to master's programs first.
Capella University is accredited by the Higher Learning Commission and offers several online bachelor's, master's and doctoral programs in psychology including both clinical and non-clinical specializations. Capella University also offers three online CACREP-accredited programs: MS in Clinical Mental Health Counseling, MS in School Counseling, and PhD in Counselor Education and Supervision, as well as a COAMFTE-accredited program, MS in Marriage and Family Therapy. Click here to contact Capella University and request information about their programs.
Step 6: Apply to the most appropriate graduate programs. Your program must meet state standards – it's a good idea to become familiar with the state board website well in advance. The safest bet at the doctoral level is a program that is accredited by the American Psychological Association. If your program is not APA-accredited, you will need to prove equivalency.
A license-qualifying master's program must include 50 hours of psychology coursework and must be campus-based.
Step 7: Complete your graduate school program. You may begin to get clinical experience as early as your first year. Early experiences are termed practicum. A doctoral program in clinical or counseling psychology will typically include a year of internship. The West Virginia Board will credit internships that are APA-accredited or arranged through the university as supervised experience.
Step 8: Seek out a position. You will need to apply for a gold card and become a supervised-psychologist. You will work under a supervision contract. You will be subject to quarterly reports.
Step 9: Take the Examination for Professional Practice in Psychology. You must attempt the examination during your first year as a supervised psychologist.
Step 10: Continue to excel while working under supervision. If your highest degree is at the master's level, you will work under supervision for fully five years; you will submit work samples at the halfway point. If you have a doctoral degree – and had an internship – your post-doctoral requirement may be as little as one year.
Step 11: Complete your oral examination.
*Find more detailed psychologist licensure information for West Virginia here.
Licensing Agency
West Virginia Board of Examiners of Psychologists www.wvpsychbd.org/