Becoming a Psychologist in Washington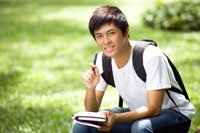 If you are planning to be a psychologist, you won't do your license-qualifying coursework until graduate school. You can, however, begin building your resume years before.
<!- mfunc feat_school ->
Sponsored School(s)
Featured Programs:
Capella University is accredited by the Higher Learning Commission and offers an Online Bachelor's in Psychology. This program is modeled around the American Psychological Association (APA) Guidelines. APA does not accredit undergraduate psychology programs. Capella University, also offers several Online Master's and Doctoral programs in Psychology including both clinical and non-clinical specializations. Visit School's Website.

---

New York University - Master of Arts in Counseling and Guidance online - No GRE required. MPCAC-accredited. Complete in as few as 18 months. Bilingual concentration available. Scholarships available.Click Here to request information today.

---

Pepperdine University - Master of Arts in Clinical Psychology with an Emphasis in Marriage and Family Therapy online - Prepare to pursue licensure as an LMFT or LPC in as few as 24 months. No GRE required. Visit School's Website.

---
<!- /mfunc feat_school ->
If You Are a High School Student or Undergraduate
Step 1: Keep up with your 'high school and beyond plan'. Prepare for admission to a four-year university. If you are not limited by geography, you may want to consider schools with strong psychology programs. While a psychology BS is not mandatory, it can make it easier to arrange the kind of experiences that will look good to graduate programs. Graduate programs typically want to see that you have had a significant amount of psychology coursework.
Step 2: Put in a strong performance at the undergraduate level. Follow the department schedule for declaring a major. You may have psychology and even math coursework to complete beforehand. Keep your grades up. Washington State University notes that one thing graduate programs look for is a GPA above 3.0!
Step 3: Make room in your schedule for research. If you are planning to go to graduate school immediately after you earn your degree, you will likely want some research experience by junior year – you can begin earlier. Your department website may have a list of current research opportunities. The honors program may provide additional opportunities.
Step 4: Seek out other resume-boosting experiences. Human service job experience will look good to some programs. You can begin in high school with volunteer service. Later you may do an undergraduate internship or practicum. Some schools will provide you with a placement; others may offer resources and let you find your own. The University of Washington notes that many undergraduate internships can potentially qualify as 'psychology-related' – even child development.
If You Have a College Degree
Step 5: Determine which doctoral programs are most in line with your goals. Some programs place a significant emphasis on research; acceptance is more likely if your interests are in line with those of faculty members. In some cases, you will identify potential mentors before submitting an application packet. If your background is stronger in the human services, though, you may have more luck with practice-oriented PsyD programs.
If you are concerned about being accepted to a doctoral program in Psychology after completing your bachelor's degree due to lower or insufficient academic achievement, you may want to apply to master's programs first.
Capella University is accredited by the Higher Learning Commission and offers several online bachelor's, master's and doctoral programs in psychology including both clinical and non-clinical specializations. Capella University also offers three online CACREP-accredited programs: MS in Clinical Mental Health Counseling, MS in School Counseling, and PhD in Counselor Education and Supervision, as well as a COAMFTE-accredited program, MS in Marriage and Family Therapy. Click here to contact Capella University and request information about their programs.
Meanwhile, take any remaining steps to make yourself competitive. If you did not take the GRE as an undergraduate, you will need to do so. Be aware that many schools have just one admission deadline per year.
Step 6: Begin doctoral studies. Your program will include a dissertation, or substantive independent research project. You will complete a series of increasingly demanding practical experiences. Your school may have its own clinic where services are provided to the public. Your first field experience generally comes in the form of practicum; Washington State requires at least 300 practicum hours. Later you may complete a pre-internship that is supervised by your university. This experience is not mandatory, but may be credited as up to 1,500 hours of supervised practice.
Step 7: Complete your pre-doctoral internship. You generally go through a competitive application process to attain an internship that is accredited by the American Psychological Association or is a member of the Association of Psychology Postdoctoral and Internship Centers. (Other internships can be accepted if they meet all requirements found in Washington Administrative Code.)
Step 8: Complete your remaining licensing requirements. If you don't have 3,000 hours of qualifying supervised practice, you will need to fulfill a postdoctoral practice requirement. You will also need to take two examinations. First up is the EPPP, a national board examination. After you have met that requirement, you will take the Washington State Jurisprudence Examination.
*Find more detailed psychologist licensure information for Washington here.
Licensing Agency
Washington Department of Health http://www.doh.wa.gov/LicensesPermitsandCertificates/ProfessionsNewReneworUpdate/Psychologist