Becoming a Psychologist in Virginia
If you want to be licensed as a clinical or applied psychologist in Virginia, you will need a doctoral degree. The Virginia Board does not mandate any specific training at the undergraduate level, but building your resume can help you get accepted into a top program.
<!- mfunc feat_school ->
Sponsored School(s)
Featured Programs:
Capella University is accredited by the Higher Learning Commission and offers an Online Bachelor's in Psychology. This program is modeled around the American Psychological Association (APA) Guidelines. APA does not accredit undergraduate psychology programs. Capella University, also offers several Online Master's and Doctoral programs in Psychology including both clinical and non-clinical specializations. Visit School's Website.

---

New York University - Master of Arts in Counseling and Guidance online - No GRE required. MPCAC-accredited. Complete in as few as 18 months. Bilingual concentration available. Scholarships available.Click Here to request information today.

---

Pepperdine University - Master of Arts in Clinical Psychology with an Emphasis in Marriage and Family Therapy online - Prepare to pursue licensure as an LMFT or LPC in as few as 24 months. No GRE required. Visit School's Website.

---
<!- /mfunc feat_school ->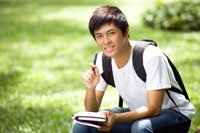 If You Are a High School Student
Step 1: Use your high years to gain a strong academic foundation. Psychology coursework will require skills in all core curriculum areas, from English to laboratory science.
Step 2: Meanwhile, seek out experiences that combine career exploration with human service. There are many organizations that will accept teenage volunteers. Some, like VCU Medical Center, even have summer volunteer programs designed specifically for teens.
Step 3: Use your undergraduate years to explore. Virginia Commonwealth University suggests that you take courses that relate to specific interests within the very broad psychology discipline.
Step 4: Going beyond minimum undergraduate requirements will make you more competitive. The University of Virginia advises students who plan to go on to graduate programs in clinical psychology to spend a year working in a research lab and also gain some experience in direct service (for example, volunteering for a hotline).
As a prospective PhD student, you may look into opportunities to graduate with honors or become a distinguished major. You will likely have the opportunity to carry out a substantive research project under the guidance of an advisor; this will culminate in a thesis.
If You Have a College Degree
Step 5: Research programs. If you wish to be licensed as a clinical psychologist, you will need to complete a doctoral program in clinical or counseling psychology that is either accredited by the American Psychological Association or meets the standards found in Virginia code. The state has also set standards for those who seek licensure as applied psychologists (experts in fields like developmental, social, or industrial-organizational psychology). Programs that are not oriented toward direct service will not have APA accreditation.
If you are concerned about being accepted to a doctoral program in Psychology after completing your bachelor's degree due to lower or insufficient academic achievement, you may want to apply to master's programs first.
Capella University is accredited by the Higher Learning Commission and offers several online bachelor's, master's and doctoral programs in psychology including both clinical and non-clinical specializations. Capella University also offers three online CACREP-accredited programs: MS in Clinical Mental Health Counseling, MS in School Counseling, and PhD in Counselor Education and Supervision, as well as a COAMFTE-accredited program, MS in Marriage and Family Therapy. Click here to contact Capella University and request information about their programs.
You may have many choices with regard to concentration or subspecialty. Programs that are heavy in research may want you to identify potential mentors.
Step 6: Meanwhile complete steps toward admission. High scores on the GRE can be an asset. If you were not a psychology major, you may need to spend some time completing core psychology courses or seeking out experience. VCU notes that students have been accepted from very unrelated fields — everything from forestry to engineering — but that preparation does take some time.
You may do a master's first. Look into transfer policies.
Step 5: Begin doctoral studies. You may spend a big portion of the first couple years completing required courses. You will also begin practical experience. You may credit pre-internship hours toward your supervised practice/ residency requirement if they meet standards of the Virginia Board (18VAC125-20-54).
Step 6: Complete your internship; this is a requirement if you are seeking clinical licensure. Clinical internships are acceptable if accredited by APA, the Association of Psychology Postdoctoral and Internship Centers, or the Association of State and Provincial Psychology Boards/National Register. Equivalent experiences are also accepted. The internship must include sufficient practice diagnosing and treating individuals with severe mental illness. >
Step 7: Look into postgraduate employment (residency) options. Meanwhile, apply to the Virginia Board for registration as a psychology resident or, if you have already fulfilled your 1,500 hour residency requirement, for licensure as a psychologist. You must register before you begin practice.
Step 8: As a prospective clinical psychologist, you must also pass the Examination for Professional Practice in Psychology (EPPP). You may take the EPPP while you are completing your residency.
*Find more detailed psychologist licensure information for Virginia here.
Licensing Agency
Virginia Board of Psychology http://www.dhp.virginia.gov/Psychology/