Becoming a Psychologist in Utah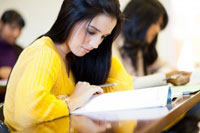 To practice as a psychologist in Utah, you will need a doctoral degree. You will begin meeting licensing requirements when you enroll in a graduate program. You may begin making yourself competitive, though, years earlier.
<!- mfunc feat_school ->
Sponsored School(s)
Featured Programs:
Capella University is accredited by the Higher Learning Commission and offers an Online Bachelor's in Psychology. This program is modeled around the American Psychological Association (APA) Guidelines. APA does not accredit undergraduate psychology programs. Capella University, also offers several Online Master's and Doctoral programs in Psychology including both clinical and non-clinical specializations. Visit School's Website.

---

New York University - Master of Arts in Counseling and Guidance online - No GRE required. MPCAC-accredited. Complete in as few as 18 months. Bilingual concentration available. Scholarships available.Click Here to request information today.

---

Pepperdine University - Master of Arts in Clinical Psychology with an Emphasis in Marriage and Family Therapy online - Prepare to pursue licensure as an LMFT or LPC in as few as 24 months. No GRE required. Visit School's Website.

---
<!- /mfunc feat_school ->
If You Are a High School Student or Undergraduate
Step 1: Prepare for university admission. It's less important at this stage that you take psychology coursework than that you get a solid foundation in all subjects required for admission to competitive four-year schools; you will be able to take some psychology coursework in college before you declare a major.
Step 2: Also spend some time in service activities. You may participate in an honor society or volunteer on an individual basis. The Utah Education Network has a list of service project ideas. Some you can begin when you are very young (http://www.uen.org/k12student/service_ideas.shtml).
Step 3: Enroll in the university and meet with an adviser. Graduate programs will want to see some academic preparation in psychology. It's not enough, though. Plan a pre-graduate school curriculum and maintain a high GPA. You may opt to join the Psi Chi Honor Society.
Step 4: Get some research experience. Your department website may include a list of faculty members who are accepting students to carry out various research-related tasks. The honors department may provide you with opportunities to do more extended research on an individual basis. The American Psychological Association (APA) has a list of competitive summer fellowships.
If You Have a College Degree
Step 5: Research doctoral psychology programs that are accredited by the APA Accreditation Commission; a non-accredited program can be accepted if it meets designation criteria of the Association of State and Provincial Psychology Boards and the National Register. There are many options. Again, you may turn to the APA for decision-making resources.
If you are concerned about being accepted to a doctoral program in Psychology after completing your bachelor's degree due to lower or insufficient academic achievement, you may want to apply to master's programs first.
Capella University is accredited by the Higher Learning Commission and offers several online bachelor's, master's and doctoral programs in psychology including both clinical and non-clinical specializations. Capella University also offers three online CACREP-accredited programs: MS in Clinical Mental Health Counseling, MS in School Counseling, and PhD in Counselor Education and Supervision, as well as a COAMFTE-accredited program, MS in Marriage and Family Therapy. Click here to contact Capella University and request information about their programs.
Step 6: Meanwhile, take any necessary steps to make yourself competitive. You will take the GRE. If your undergraduate major was not in psychology, you may have prerequisites to do; statistics is a common requirement. Some programs place a good deal of weight on service experience while others want to see a strong research resume. Being accepted into a program is not just a matter of having the qualifications but of finding a good fit.
Step 7: Matriculate to the doctoral program and begin studies. You may earn a master's degree en route to a doctorate. As a doctoral student, you will begin earning the supervised practice hours required for licensure. In order to be credited, pre-doctoral experiences must meet requirements found in Board rule. Familiarize yourself with the website of the licensing agency.
Programs that prepare you for practice in clinical psychology and related disciplines typically include a one-year internship requirement. This generally entails ranking prospective internships and going through an application and interview process. Your internship must meet the standards of the Association of Psychology Postdoctoral and Internship Centers (APPIC) to be accepted in Utah.
Step 8: Apply to become a Certified Psychology Resident. This status will allow you to complete your postdoctoral hours. The requirement may vary; Utah requires 4,000 combined practice hours at the pre- and post-doctoral levels.
Step 9: Complete your residency. You may perform a variety of duties. If you want to be qualified to provide mental health therapy, you will need at least 1,000 hours of qualifying experience. (These hours do not necessarily have to be postdoctoral, but you can't begin accruing them until you hold at least a master's degree.)
Step 10: Take the required examinations: the Examination for Professional Practice in Psychology and the Utah Psychologist Law and Ethics Examination.
*Find more detailed psychologist licensure information for Utah here.
Licensing Agency
Utah Psychologist Licensing Board http://www.dopl.utah.gov/licensing/psychology