Becoming a Psychologist in South Dakota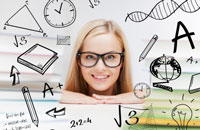 To practice independently as a psychologist, you will need a doctoral degree. It's a long road, and your qualifications will be assessed at many points along the way. It helps if you begin building a foundation early on.
<!- mfunc feat_school ->
<!- /mfunc feat_school ->
If You Are a High School Student or Undergraduate
Step 1: Prepare for general college admission. Make sure you are ready to write college-level research papers and lab reports. Meanwhile, seek out related extracurricular and/ or volunteer experiences. You may have the opportunity to use your capstone project to explore your interest in psychology.
Step 2: Begin undergraduate studies. Your undergraduate years are a time when you can take courses in various psychology sub-disciplines and specialties. You may even have the opportunity to do an undergraduate specialization in an area like disaster response.
You will likely want to earn your BS or BA in psychology. Just completing a psychology degree, though, won't be enough to make you competitive for graduate psychology programs. Some schools have a difference sequence of classes for students who plan to seek human service positions at the bachelor's level and those who plan to go on to graduate school. If there is no track designed for you, you will need to plan your own. Meet with an adviser early on.
Step 3: Seek out extra opportunities, including substantive research experience. This may include an independent research project and thesis.
You may find service and leadership opportunities through an organization like Psi Chi Honor Society or the American Psychological Association. You may also look for internship opportunities. South Dakota State University notes that internship can take different forms. If you manage to get hired on your own in a psychology-related position, this may look very good to graduate schools. If you are placed in an internship as part of a course, you will have the advantage of formal supervision — and possibly a more organized training experience.
Step 4: If you are strongly considering graduate school, you may want to be preparing for admission as early as junior year.
If You Have a College Degree
Step 5: Take any remaining steps necessary to make yourself a competitive candidate. You will need to take the GRE. You will need to secure several letters of recommendation and put forth your qualifications in a personal statement. Acceptance into a program will depend in part on your choice of where to apply. Your prior background will have some bearing on your choice between PsyD and PhD programs. In some cases, it is important to identify research interests of faculty and identify potential mentors.
If you are concerned about being accepted to a doctoral program in Psychology after completing your bachelor's degree due to lower or insufficient academic achievement, you may want to apply to master's programs first.
Capella University is accredited by the Higher Learning Commission and offers several online bachelor's, master's and doctoral programs in psychology including both clinical and non-clinical specializations. Capella University also offers three online CACREP-accredited programs: MS in Clinical Mental Health Counseling, MS in School Counseling, and PhD in Counselor Education and Supervision, as well as a COAMFTE-accredited program, MS in Marriage and Family Therapy. Click here to contact Capella University and request information about their programs.
Step 6: Matriculate to the program and begin coursework and research. Give thought to where you will do your practicum experiences; practicum is preparation for internship year.
Step 7: Complete your internship. Doctoral students go through a very competitive process to secure APA-accredited internships; placement is not a given. (If your internship is not APA-accredited, you will need to fill out a form when you apply for licensure that confirms that the internship met a rigorous set of standards.)
Step 8: Seek a position where you can complete your postdoctoral requirement. You must work under supervision for at least a year. During this time, you will use a title like 'psychological associate' or 'psychology resident'.
Step 9: Take the two required examinations. The national board examination tests your knowledge of psychology practice. The oral examination tests your knowledge of law and ethics. If you pass the examinations while still in the process of fulfilling your practice requirement, you can be issued a provisional license.
*Find more detailed psychologist licensure information for South Dakota here.
Licensing Agency
South Dakota Board of Examiners of Psychologists http://dss.sd.gov/behavioralhealthservices/licensingboards/board_psychologists.asp