Becoming a Psychologist in Rhode Island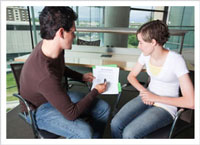 You can set your sights on becoming a psychologist when you are a teenager – or after you have a first career. It's important to remember that psychology is a doctoral level profession and that programs will want to see academic and professional or pre-professional achievements on your resume.
<!- mfunc feat_school ->
Sponsored School(s)
Featured Programs:
Capella University is accredited by the Higher Learning Commission and offers an Online Bachelor's in Psychology. This program is modeled around the American Psychological Association (APA) Guidelines. APA does not accredit undergraduate psychology programs. Capella University, also offers several Online Master's and Doctoral programs in Psychology including both clinical and non-clinical specializations. Visit School's Website.

---

New York University - Master of Arts in Counseling and Guidance online - No GRE required. MPCAC-accredited. Complete in as few as 18 months. Bilingual concentration available. Scholarships available.Click Here to request information today.

---

Pepperdine University - Master of Arts in Clinical Psychology with an Emphasis in Marriage and Family Therapy online - Prepare to pursue licensure as an LMFT or LPC in as few as 24 months. No GRE required. Visit School's Website.

---
<!- /mfunc feat_school ->
If You Are a High School Student or Undergraduate
Step 1: Use your high school years to build a strong academic foundation. Your university coursework will build on skills in laboratory science, math, and composition as well as social science. You should also do some career exploration. You may want to browse resources on the site of the American Psychological Association. This is also the time to begin volunteer work.
Step 2: Begin your undergraduate studies. Give strong consideration to the psychology major. As a psychology major, you will have the opportunity to explore different branches of the field. (If you are interested in a particular sub-discipline, you may want to look ahead to see what coursework graduate programs will like to see on your transcript.)
Step 3: Excel. If you go beyond the minimum requirements for your degree, you typically have an easier time making it into a competitive program. It is often an expectation that you have some research experience; some programs will have higher expectations than others. Service experience can also strengthen your graduate school application. The University of Rhode Island provides an example. Candidates who select a neuropsychology focus are expected to have some research and applied experience before entering the program (and to build on this afterward). Examples include independent study or honors research, internship, and/ or presentation of papers at conferences. You may find yourself with more opportunities if you join a professional organization.
If You Have a College Degree
Step 4: Research license-qualifying doctoral programs.
If you are concerned about being accepted to a doctoral program in Psychology after completing your bachelor's degree due to lower or insufficient academic achievement, you may want to apply to master's programs first.
Capella University is accredited by the Higher Learning Commission and offers several online bachelor's, master's and doctoral programs in psychology including both clinical and non-clinical specializations. Capella University also offers three online CACREP-accredited programs: MS in Clinical Mental Health Counseling, MS in School Counseling, and PhD in Counselor Education and Supervision, as well as a COAMFTE-accredited program, MS in Marriage and Family Therapy. Click here to contact Capella University and request information about their programs.
Your program can be accepted if it holds program-level accreditation though the American Psychological Association or if it is housed in a regionally accredited institution and meets specific Board requirements. Distance programs are accepted only if they are APA-accredited. There are many options. Some clinical psychology programs allow you to specialize in a particular area like developmental psychology, health psychology, or neuropsychology.
Meanwhile take any steps necessary to make yourself a competitive candidate. If you are not a new graduate, you will likely need to take (or retake) the GRE. If you are not yet ready to apply to doctoral programs, you may want to look into master's options. It is sometimes an option to transfer about 30 credits into a doctoral program.
Step 5: Matriculate to the program and begin doctoral studies. While the APA and the Rhode Island Board set some coursework requirements, you generally have a lot of choices. You may also have a lot of say in where you do your practicum experiences. Your dissertation is another chance to build your resume; it often reflects more than a year of research and writing.
Step 6: Complete your internship. The Rhode Island Board will accept training programs that are connected with universities or accredited by the APA. Other equivalent programs may also be accepted. Be aware that you generally face some level of competition.
Step 7: Apply to the Rhode Island Board for a temporary license. This will allow you to practice under supervision. You will be working, but you will continue to use a title like intern or trainee. You must have supervision in accordance with Rhode Island regulations. Your license will be issued for two years, but you can complete requirements in one.
Step 8: Complete remaining license requirements. You will receive state authorization to take the Examination for Professional Practice in Psychology.
*Find more detailed psychologist licensure information for Rhode Island here.
Licensing Agency
Rhode Island Department of Health http://www.health.ri.gov/licensing/