Becoming a Psychologist in Pennsylvania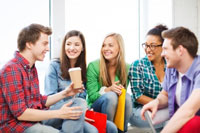 Although you don't begin training as a psychologist until graduate school, you will want to take some steps well in advance; this will increase the chances that you not only get into a selective program but have most of your experience paid for through graduate assistantship or fellowship. It can be a long path. The following is designed to help you.
<!- mfunc feat_school ->
<!- /mfunc feat_school ->
If You Are a High School Student or Undergraduate
Step 1: Get a strong foundation in the basics: lab science, math, critical reading and writing. You may consider AP psychology, though it is not an expectation. AP statistics and English composition may also prove useful. High school is also a good time to begin volunteer service and other career exploration. The Pennsylvania government has provided information about community service and volunteer opportunities within the state (https://www.dli.pa.gov/Individuals/pennserve/Pages/Volunteering-and-Community-Service-in-the-Commonwealth.aspx).
Step 2: Prepare for undergraduate admission. Although you do not have to select a major at the onset, you may want to consider the reputation of the psychology program and any special opportunities they offer. It is a good idea to seek advising early on.
Step 3: Excel academically. Aim for a GPA of about 3.8. This will place you on a par with accepted applicants at selective graduate programs. Some programs place more emphasis on the final two years of undergraduate study.
Do more than meet degree requirements. Research experience is a considered a must by many graduate programs. Your department website can be a starting point. Faculty members may even post for undergraduate assistants.
Step 4: Plan ahead. Penn State advises taking steps toward graduate school admission as early as junior year. This will include working on a personal statement as well as preparing for the GRE.
If You Have a College Degree
Step 5: Begin researching graduate programs.
If you are concerned about being accepted to a doctoral program in Psychology after completing your bachelor's degree due to lower or insufficient academic achievement, you may want to apply to master's programs first.
Capella University is accredited by the Higher Learning Commission and offers several online bachelor's, master's and doctoral programs in psychology including both clinical and non-clinical specializations. Capella University also offers three online CACREP-accredited programs: MS in Clinical Mental Health Counseling, MS in School Counseling, and PhD in Counselor Education and Supervision, as well as a COAMFTE-accredited program, MS in Marriage and Family Therapy. Click here to contact Capella University and request information about their programs.
In order to be eligible for licensure in Pennsylvania, you must complete a program that is accredited by the APA or designated by the Association of State and Provincial Psychology Boards/ National Register. There are many options. You may narrow your options by asking undergraduate professors or by reading research journals and identifying those whose work interests you. Some programs even provide contact information for students who you can contact to find out about their experiences.
Step 6: Also weigh your grades, test scores, and level of experience against that of the typical student admitted to the program. There are many factors you can take into consideration. You will have a better experience – and a better shot at admission – if your interests match those of potential mentors. Penn State notes that typical graduate school psychology applicants have undergraduate degrees in psychology but that those from other fields are considered.
Step 7: Matriculate to the doctoral program. It will take you at least a few years to complete your coursework, practicum experiences, and dissertation/ substantive research requirements. Your program will likely require a year of internship.
Step 8: Seek out a position where you can work under supervision. You will need to accrue at least 1,750 hours over a period of at least a year. The Board will credit part-time work; under current regulations, you can credit anything between 15 and 45 hours in a given week. You will be under Board jurisdiction. Your performance will be evaluated.
Step 9: Complete your remaining requirements. You will need the permission of the Pennsylvania Board to take licensing examinations. You will need to pass both the Examination for Professional Practice in Psychology (EPPP) and the Pennsylvania Psychology Law Examination. You may sit for examinations while in the processing of completing postdoctoral practice.
*Find more detailed psychologist licensure information for Pennsylvania here.
Licensing Agency
Pennsylvania State Board of Psychology https://www.dos.pa.gov/ProfessionalLicensing/BoardsCommissions/Psychology/Pages