Becoming a Psychologist in Oregon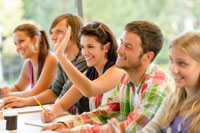 Psychologists in Oregon, like those in most of the nation, have doctoral level education. They don't all have the same qualifications when they enter graduate school. There are many possible paths. However, majoring in psychology – and seeking out psychology-related research and human service experience – can put you at an advantage.
<!- mfunc feat_school ->
Sponsored School(s)
Featured Programs:
Capella University is accredited by the Higher Learning Commission and offers an Online Bachelor's in Psychology. This program is modeled around the American Psychological Association (APA) Guidelines. APA does not accredit undergraduate psychology programs. Capella University, also offers several Online Master's and Doctoral programs in Psychology including both clinical and non-clinical specializations. Visit School's Website.

---

New York University - Master of Arts in Counseling and Guidance online - No GRE required. MPCAC-accredited. Complete in as few as 18 months. Bilingual concentration available. Scholarships available.Click Here to request information today.

---

Pepperdine University - Master of Arts in Clinical Psychology with an Emphasis in Marriage and Family Therapy online - Prepare to pursue licensure as an LMFT or LPC in as few as 24 months. No GRE required. Visit School's Website.

---
<!- /mfunc feat_school ->
If You Are a High School Student or Undergraduate
Step 1: Take a general college prep course of study. Psychology coursework is optional at this stage, but can help you gauge your interest. If you do take psychology courses as a high school student, you will have the option of joining the American Psychological Association. (You may want to browse resources on the APA website, even if you don't opt for membership.)
Step 2: Get some experience in human service. It's a good idea to begin volunteer work in high school and continue through the college years. The APA notes that autism camps can be a good option. The Autism Society of Oregon has a list of in-state camps (http://autismsocietyoregon.org/resources/professional-directory/summer-camps).
Step 3: Make the most of your undergraduate education. Seek research experience. Options include working as a research assistant and/ or completing a senior thesis. Undergraduate practicums can provide you with additional hands-on experience.
If You Have a College Degree
Step 4: Make yourself as competitive as possible. If you did not prep for and take the GRE as an undergraduate, you will do so at this time. If you were not a psychology major, you may have additional requirements.
If you are concerned about being accepted to a doctoral program in Psychology after completing your bachelor's degree due to lower or insufficient academic achievement, you may want to apply to master's programs first.
Capella University is accredited by the Higher Learning Commission and offers several online bachelor's, master's and doctoral programs in psychology including both clinical and non-clinical specializations. Capella University also offers three online CACREP-accredited programs: MS in Clinical Mental Health Counseling, MS in School Counseling, and PhD in Counselor Education and Supervision, as well as a COAMFTE-accredited program, MS in Marriage and Family Therapy. Click here to contact Capella University and request information about their programs.
Step 5: Research programs carefully. A doctoral program can be accepted for licensing purposes if it is accredited by the APA or Canadian Psychological Association or if it is housed in a regionally accredited institution and meets all requirements outlined in Oregon Administrative Rules. There are plenty of options if you are willing to travel! You can narrow your choices by asking undergraduate professors or browsing research publications and noting university affiliations. In some instances, it is a required part of the application process to identify faculty whose research interests you.
Step 6: Complete the application process. You typically need to provide several references and write a personal statement that articulates your vision and also shows how your past experiences have prepared you. You may opt for a master's program first if you are not yet competitive at the doctoral level.
Step 7: Complete doctoral requirements, including practical training. Your program will include at least 300 hours of practicum, completed over a period of at least two semesters. It may include considerably more. Practicum experiences can not only prepare you for internship but provide you with solid references. You will eventually complete an internship of at least 1,500 hours. You can compete for internships in Oregon or around the nation.
Step 8: When you are in the final six months of your doctoral program, you can open an application file with the Oregon Board. You may begin fulfilling minor requirements like having a background check and submitting references. After your degree has been granted and all required materials have been submitted, you can be authorized to work under a supervision contract. You will be approved to take examinations.
Step 9: Complete your remaining license requirements. You will need to take and pass the Examination for Professional Practice in Psychology (EPPP) and the Oregon Jurisprudence Exam (OJE). You will need to work under supervision for at least 12 months and until such time as you have accrued 1,500 hours. You may work part-time and take up to 24 months. During this time, you will have weekly supervision.
*Find more detailed psychologist licensure information for Oregon here.
Licensing Agency