Becoming a Psychologist in Oklahoma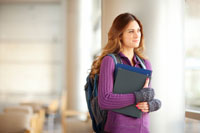 Oklahoma's psychologists have doctoral degrees. Those who serve directly hold state credentialing.
If your psychology practice will be limited to research or indirect organizational work, your goal may be achieved when you have that degree in hand. If you will be providing direct care, you will have to complete additional requirements.
<!- mfunc feat_school ->
Sponsored School(s)
Featured Programs:
Capella University is accredited by the Higher Learning Commission and offers an Online Bachelor's in Psychology. This program is modeled around the American Psychological Association (APA) Guidelines. APA does not accredit undergraduate psychology programs. Capella University, also offers several Online Master's and Doctoral programs in Psychology including both clinical and non-clinical specializations. Visit School's Website.

---

New York University - Master of Arts in Counseling and Guidance online - No GRE required. MPCAC-accredited. Complete in as few as 18 months. Bilingual concentration available. Scholarships available.Click Here to request information today.

---

Pepperdine University - Master of Arts in Clinical Psychology with an Emphasis in Marriage and Family Therapy online - Prepare to pursue licensure as an LMFT or LPC in as few as 24 months. No GRE required. Visit School's Website.

---
<!- /mfunc feat_school ->
If You Are a High School Student or Undergraduate
Step 1: Get a solid academic background in high school. Success in college psychology depends on a background in math and laboratory science as well as strong critical reading and writing skills. You may have the chance to take some psychology coursework. Think of it as career exploration.
Step 2: High school is also a good time to begin exploring the human service field. You can search for volunteer opportunities online, through sites like A Better Life OKC (http://www.abetterlifeokc.com/what-to-do/volunteerism) .
Step 3: Choose the university where you will complete your bachelor's degree and begin planning your course of study. Some schools offer both a Bachelor of Science and a Bachelor of Arts in Psychology. In this instance, the Bachelor of Science may be the better choice.
Step 4: Excel at the bachelor's level. This entails more than just getting good grades. You generally need some research experience. You may become a research assistant. You may also write a thesis.
Consider membership in a professional or pre-professional organization. The University of Oklahoma notes that undergraduates who are considering a career in psychology are encouraged to join the Psi Chi honor society or a psychology organization. One option is the American Psychology Association, or APA. If you have a strong interest in a particular branch of psychology, you can even join an APA division – many accept student members.
If You Have a College Degree
Step 5: If you are concerned about being accepted to a doctoral program in Psychology after completing your bachelor's degree due to lower or insufficient academic achievement, you may want to apply to master's programs first.
Capella University is accredited by the Higher Learning Commission and offers several online bachelor's, master's and doctoral programs in psychology including both clinical and non-clinical specializations. Capella University also offers three online CACREP-accredited programs: MS in Clinical Mental Health Counseling, MS in School Counseling, and PhD in Counselor Education and Supervision, as well as a COAMFTE-accredited program, MS in Marriage and Family Therapy. Click here to contact Capella University and request information about their programs.
Research APA-accredited doctoral programs and prepare to submit applications to your top choices. Take stock of your background and take any required steps; this may include taking the GRE if you have not yet done so. Students sometimes apply at the master's level if they are not yet ready to go for a PhD. (Some programs have the dual purpose of preparing students for master's level careers and making them more competitive at the higher level.)
Step 6: Begin your doctoral education. You can expect quite a bit of required coursework in the early stages. You will work on a dissertation or substantive research project. You may have the opportunity to do some teaching. Your program will include practicum experiences. This is mandated by state rule. Practicum will give you practice in skills like administering assessments. It may also provide you with references when you go to apply for internships.
Step 7: Complete your internship. (This is a requirement if you are in clinical, counseling, or school psychology). Your internship must be in accordance with the rules of the Oklahoma State Board of Examiners of Psychologists.
Step 8: Determine where you will complete you postdoctoral practice. If you are not accruing your hours in an exempt state agency setting, you will need to apply to the Oklahoma State Board. You must work under approved supervision.
Step 9: Pass a series of examinations. The first two are a national board examination known as the EPPP and a state jurisprudence examination. The final requirement is the oral examination. For this, you will need to appear before a committee.
Step 10: Complete any remaining supervised practice hours. You may meet the 2,000 hour requirement by working 40 hours a week for 50 weeks. Part-time work is also acceptable.
*Find more detailed psychologist licensure information for Oklahoma here.
Licensing Agency