Becoming a Psychologist in Ohio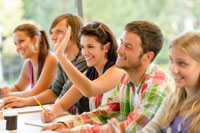 Your psychologist training will not end until after you have earned a doctoral degree. Early planning can help you achieve your goal.
<!- mfunc feat_school ->
Sponsored School(s)
Featured Programs:
Capella University is accredited by the Higher Learning Commission and offers an Online Bachelor's in Psychology. This program is modeled around the American Psychological Association (APA) Guidelines. APA does not accredit undergraduate psychology programs. Capella University, also offers several Online Master's and Doctoral programs in Psychology including both clinical and non-clinical specializations. Visit School's Website.

---

New York University - Master of Arts in Counseling and Guidance online - No GRE required. MPCAC-accredited. Complete in as few as 18 months. Bilingual concentration available. Scholarships available.Click Here to request information today.

---

Pepperdine University - Master of Arts in Clinical Psychology with an Emphasis in Marriage and Family Therapy online - Prepare to pursue licensure as an LMFT or LPC in as few as 24 months. No GRE required. Visit School's Website.

---
<!- /mfunc feat_school ->
If You Are a High School Student or Undergraduate
Step 1: Use your high school years to get a solid academic foundation in the core curriculum areas. There is no expectation that you will begin university studies with a background in psychology. However you may have the opportunity to take AP psychology.
Meanwhile, begin career exploration. Volunteering is a good option.
Step 2: Plan your university studies. It is often expected that you apply to the university before declaring a psychology major. You may need to take a few psychology courses before acceptance into the program.
Step 3: Work on making yourself competitive. As an undergraduate, seek out research opportunities through your department. You will likely want to do a capstone project or thesis even if it is not a degree requirement.
Step 4: Continue to seek out volunteer opportunities, particularly those where you can provide services to individuals and families whose lives have been touched by mental illness, intellectual disability, or plain bad luck. There are plenty of options! Havar Inc. in Athens, for example, seeks volunteers to work with developmentally disabled adults.
If You Have a College Degree
Step 5: If you are concerned about being accepted to a doctoral program in Psychology after completing your bachelor's degree due to lower or insufficient academic achievement, you may want to apply to master's programs first.
Capella University is accredited by the Higher Learning Commission and offers several online bachelor's, master's and doctoral programs in psychology including both clinical and non-clinical specializations. Capella University also offers three online CACREP-accredited programs: MS in Clinical Mental Health Counseling, MS in School Counseling, and PhD in Counselor Education and Supervision, as well as a COAMFTE-accredited program, MS in Marriage and Family Therapy. Click here to contact Capella University and request information about their programs.
Research doctoral programs. The Ohio Board will license individuals on the basis of doctoral programs that hold accreditation or recognition by the American Psychological Association, Canadian Psychological Association, or Association of State and Provincial Psychology Boards/National Register. Doctoral programs in school psychology can be approved by the National Association of School Psychologists.
Some programs offer a special concentration or emphasis area (for example, health psychology, which explores the relationship between mental processes and physical statuses like chronic illness). If the department does not offer an official concentration or subspecialty in an area that interests you, you may still find faculty members that are experts in it.
Step 6: Complete coursework, research, and practical training. Your early practical experience usually comes in the form of practicum. You may have the opportunity to do a qualifying pre-internship — one that the Ohio Board will accept as meeting a portion of your supervised practice requirement. (You will not become eligible until you have completed 48 semester hours of coursework and 400 hours of practicum.)
Step 7: Spend some time preparing for internship year. You generally need to go through a competitive process to secure an internship. This means securing references, writing about your visions — and doing a lot of research of individuals programs. The Ohio State Board will accept internships that are accredited by the APA or CPA or that hold membership in the Association of Postdoctoral and Psychology Internship Centers. Non-accredited internships can be accepted if they meet the requirements found in Ohio Administrative Code OAC 4732-9-01.
Step 8: Complete your internship. Your internship will be 1,500 to 2,000 hours in length. You may perform a variety of duties, but the main emphasis will be on learning to deliver services; the Board places some limits on the number of hours that can be credited for research or teaching.
Step 9: Complete remaining licensing requirements, including supervised practice. Ohio requires a total of 3,600 hours of supervised practice. The amount that you will need to complete at the postdoctoral level will vary. (The Ohio Board cautions that many states do require a set number of postdoctoral hours and that meeting Ohio's supervised practice requirement won't necessarily mean that you are eligible for licensure everywhere.)
You will also need to take the Examination for Professional Practice in Psychology.
*Find more detailed psychologist licensure information for Ohio here.
Licensing Agency