Becoming a Psychologist in New York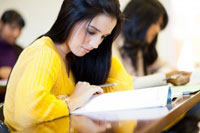 You will not do your license-qualifying psychology coursework until graduate school. If you don't make your career decision early, you can still make your goal. You often have more and better options, though, if you start planning early. Here are some tips for you, whatever stage you are in your education.
<!- mfunc feat_school ->
Sponsored School(s)
Featured Programs:
Capella University is accredited by the Higher Learning Commission and offers an Online Bachelor's in Psychology. This program is modeled around the American Psychological Association (APA) Guidelines. APA does not accredit undergraduate psychology programs. Capella University, also offers several Online Master's and Doctoral programs in Psychology including both clinical and non-clinical specializations. Visit School's Website.

---

New York University - Master of Arts in Counseling and Guidance online - No GRE required. MPCAC-accredited. Complete in as few as 18 months. Bilingual concentration available. Scholarships available.Click Here to request information today.

---

Pepperdine University - Master of Arts in Clinical Psychology with an Emphasis in Marriage and Family Therapy online - Prepare to pursue licensure as an LMFT or LPC in as few as 24 months. No GRE required. Visit School's Website.

---
<!- /mfunc feat_school ->
If You Are a High School Student or Undergraduate
Step 1: Make yourself university-ready. There are no courses that you have to take at this stage beyond general college prep. However, you have the option of using electives to explore career interests. Volunteer work can not only strengthen your college application but help you know whether a career in mental health is for you.
Step 2: Apply to and enroll in classes at your chosen university. Strongly consider an undergraduate degree in psychology. Graduate schools will, at the least, want to see a lot of psychology coursework on your transcripts. If you are interested in a particular branch of psychology, you can plan your education accordingly.
Step 3: Think beyond the current goal of graduation. The City College of New York notes that those who plan to go on to graduate school should take steps by the early part of their junior years: for example, looking into options for independent study and research. You don't have to wait until junior year to begin building your research resume. Your department website may provide leads. You may even compete for summer internships. If you have ties to a professional organization like the American Psychological Association, you may be more aware of the opportunities that are out there. Senior year, meanwhile, is a good time to tackle the GRE.
If You Have a College Degree
Step 4: If you are concerned about being accepted to a doctoral program in Psychology after completing your bachelor's degree due to lower or insufficient academic achievement, you may want to apply to master's programs first.
Capella University is accredited by the Higher Learning Commission and offers several online bachelor's, master's and doctoral programs in psychology including both clinical and non-clinical specializations. Capella University also offers three online CACREP-accredited programs: MS in Clinical Mental Health Counseling, MS in School Counseling, and PhD in Counselor Education and Supervision, as well as a COAMFTE-accredited program, MS in Marriage and Family Therapy. Click here to contact Capella University and request information about their programs.
Identify doctoral programs that meet your needs. If located within New York, a program must be state approved. If not located in-state, it must be substantially equivalent. It is a good idea to become familiar with state licensing standards early on. There are many license-qualifying options. Prospective psychology students are sometimes advised to read research publications and identify the university affiliations of the authors. If you are not yet ready to apply at the doctoral level, you may opt to earn a master's degree first. Consider your options for transferring credits.
Step 5: Complete doctoral requirements. This step will take at least a few years. It sometimes takes six or more. However, if you are accepted into a university-based PhD program, there is a good chance that you will be receiving not only tuition money but a stipend for carrying out research and helping the department meet its goals. You will also be spending a lot of time out in the field carrying out the duties of a psychologist. New York requires that programs include a year of internship or appropriate field experience. 1,750 of the 3,500 total experience hours may be credited for qualifying pre-doctoral work.) Prior to internship, you typically do shorter supervised experiences where you begin to apply skills such as administering and interpreting assessments.
Step 6: Apply to the state licensing agency for permission to take the licensing examination (and for eventual licensure). You may do this when you have completed your doctoral degree and pre-doctoral supervised practice. Unless you fall into an exemption category, you will also need to apply for a limited permit to authorize supervised practice.
Step 7: Fulfill remaining licensing requirements. In addition to passing the Examination for Professional Practice in Psychology, you will need to complete at least a year of postdoctoral supervised practice. You may work part-time, but will need to complete the 1,750 hours within a span of a few years.
*Find more detailed psychologist licensure information for New York here.
Licensing Agency