Becoming a Psychologist in Nevada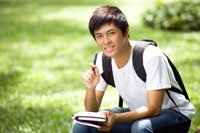 It takes years of rigorous graduate study to become a psychologist. You can enter a graduate program at any point if your background is strong enough. Here are some tips for you, whether you are a high school student or have a college degree.
<!- mfunc feat_school ->
Sponsored School(s)
Featured Programs:
Capella University is accredited by the Higher Learning Commission and offers an Online Bachelor's in Psychology. This program is modeled around the American Psychological Association (APA) Guidelines. APA does not accredit undergraduate psychology programs. Capella University, also offers several Online Master's and Doctoral programs in Psychology including both clinical and non-clinical specializations. Visit School's Website.

---

New York University - Master of Arts in Counseling and Guidance online - No GRE required. MPCAC-accredited. Complete in as few as 18 months. Bilingual concentration available. Scholarships available.Click Here to request information today.

---

Pepperdine University - Master of Arts in Clinical Psychology with an Emphasis in Marriage and Family Therapy online - Prepare to pursue licensure as an LMFT or LPC in as few as 24 months. No GRE required. Visit School's Website.

---
<!- /mfunc feat_school ->
If You Are a High School Student or Undergraduate
Step 1: Concentrate on preparation for college admission. Take rigorous coursework while maintaining a solid GPA. Advanced courses in psychology or statistics are not mandatory, but can be a good choice.
Meanwhile do some career exploration. Volunteer work can help you determine whether a service career is for you. You may check out the Nevada Volunteers website (http://nevadavolunteers.org/).
Step 2: Begin college. You may consider psychology opportunities that are available at the undergraduate level when deciding where to apply. Some departments offer concentrations; these give you the opportunity to specialize. Some students select schools based on national reputation.
Step 3: Go beyond minimum degree requirements. Consider working in a research lab. You may opt for independent study and thesis either through the psychology department or through the honors department. Your school may even offer a research specialization.
Step 4: Also consider professional affiliations. Many schools have psychology clubs and honor societies. You can join the American Psychological Association as an undergraduate (or even as a high schooler if you are taking psychology coursework).
If You Have a College Degree
Step 5: If you are concerned about being accepted to a doctoral program in Psychology after completing your bachelor's degree due to lower or insufficient academic achievement, you may want to apply to master's programs first.
Capella University is accredited by the Higher Learning Commission and offers several online bachelor's, master's and doctoral programs in psychology including both clinical and non-clinical specializations. Capella University also offers three online CACREP-accredited programs: MS in Clinical Mental Health Counseling, MS in School Counseling, and PhD in Counselor Education and Supervision, as well as a COAMFTE-accredited program, MS in Marriage and Family Therapy. Click here to contact Capella University and request information about their programs.
Research license-qualifying doctoral programs. Your program must either be APA-accredited or substantially equivalent. If you opt for a program that is not APA-accredited, you will need to verify that it not only included the required courses but that the material covered in them was equivalent.
Qualifying programs are varied. You often have a better shot of getting into a competitive program if you have interests that are in accord with the main focus of the program and/or the research interests of individual faculty members.
Step 6: Meanwhile, carry out steps required for admission. Take the GRE if you did not do so senior year. If you were not a psychology major, you may have prerequisites in areas like statistics. Some candidates take a year to acquire related work experience.
Step 7: Complete doctoral coursework. Your coursework, including dissertation, will comprise at least three years of study. It may be much more. A university-affiliated PhD program is typically longer but may fund you for carrying out research. You may do many things as a doctoral student, including teach. Your early clinical experiences will come in the form of practicum.
Step 8: Seek an APA-accredited internship. You will prepare application materials and go through a competitive process. You will rank your top choices. You can turn to the APA for a list of internships in Nevada. In order to secure the most appropriate one, it is sometimes necessary to rank internships that are not local.
If you do not secure an APA-accredited internship, you may complete an equivalent internship that meets requirements of Nevada Administrative Code.
Step 9: Apply to become a Psychological Assistant. You will complete your postdoctoral practice while holding this status. Postdoctoral experience must be in accordance with the Association of State and Provincial Psychology Boards guidelines or meet requirements of state administrative code. The experience will not necessarily be part of a formal training program, but you will have weekly supervision. You and your supervisor will together log experience hours.
Step 10: Take the Examination for professional Practice in Psychology. You can be made eligible after you have completed your educational requirements.
Step 11: Take the state examination. This assesses your knowledge of law, ethics, and professional conduct. It is the last step before licensure.
*Find more detailed psychologist licensure information for Nevada here.
Licensing Agency