Becoming a Psychologist in Nebraska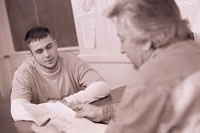 Although you will not do your psychologist training until graduate school, there are plenty of things you can do in advance to prepare yourself. Here is a general outline of the process.
<!- mfunc feat_school ->
<!- /mfunc feat_school ->
If You Are a High School Student or Undergraduate
Step 1: Go beyond the minimum high school requirements. You will have the most opportunities if you have a solid science background. Composition and communication skills are also important. It is a good idea to do some volunteer work before college. Your school counselor may have ideas. You can also look for resources on the Serve Nebraska website.
Step 2: Select an undergraduate school and program. If you are strongly considering becoming a psychologist, you will probably want to major in psychology or a very closely related field. B.S. programs sometimes include more science and research coursework than B.A. However, there isn't a hard and fast rule, so explore thoroughly. You may have the opportunity to select an undergraduate concentration, for example, forensic psychology or mental health.
Step 3: Tailor your undergraduate experience so that it's preparation for grad school. Consider doing a senior thesis. This will give you the opportunity to carry out some research on your own. You can begin getting research experience as an underclassman. There may be leads on your own department website.
If You Have a College Degree
Step 4: Take whatever steps are necessary to make yourself competitive. You are generally required to take the GRE aptitude test. If you were not a psychology major, you may also be required to take the psychology subtest. Bolster your resume if it seems lacking. You may seek out research or service opportunities. Nebraska's RISE Americorps gives individuals opportunities to support those who are in the corrections system. This is one of many potential opportunities.
If you are concerned about being accepted to a doctoral program in Psychology after completing your bachelor's degree due to lower or insufficient academic achievement, you may want to apply to master's programs first.
Capella University is accredited by the Higher Learning Commission and offers several online bachelor's, master's and doctoral programs in psychology including both clinical and non-clinical specializations. Capella University also offers three online CACREP-accredited programs: MS in Clinical Mental Health Counseling, MS in School Counseling, and PhD in Counselor Education and Supervision, as well as a COAMFTE-accredited program, MS in Marriage and Family Therapy. Click here to contact Capella University and request information about their programs.
Step 5: Decide what graduate programs you will apply to. Your doctoral program should be APA-accredited. The Board will also accept equivalent programs; the burden will be on you to demonstrate equivalency.
Some students apply first at the master's level. This may be to your advantage if you were not a psychology major and do not have a strong enough background in other areas. Nebraska licenses master's level psychology graduates as psychological assistants. If you want to function autonomously as a psychologist, though, you will need to continue on for a doctoral degree.
Step 6: Matriculate into the doctoral program. You will have a lot of required coursework in the early stages. Your program will include practicum. If you are in a clinical program, this generally includes plenty of practice administering assessments. The Board requires you to complete practicum before beginning your internship.
Step 7: Complete your internship. Your internship should also be APA-accredited or equivalent. APA internships are awarded to those who 'match' in a competitive process. You will rank your top choices. They in turn will rank you. You will need to prepare an application packet and ready yourself for interviews.
Step 8: Apply to the Nebraska Board for your provisional license. This will allow you to complete your one-year postdoctoral supervised practice requirement. The experience will be at least 1,500 hours. You may work part-time, but will be expected to complete requirements within two years.
Step 9: Complete required examinations. You will be eligible once the Board has approved your provisional license. You will need to pass a national board examination, the Examination for Professional Practice in Psychology, as well as a two-part state-constructed examination. Part of the examination is take-home. After this requirement has been met, you will have an oral examination.
*Find more detailed psychologist licensure information for Nebraska here.
Licensing Agency