Becoming a Psychologist in Mississippi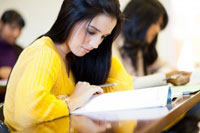 Professional psychology programs are highly competitive. Although you won't begin your training until graduate school, you may want to begin preparing as an undergraduate — or even before.
<!- mfunc feat_school ->
Sponsored School(s)
Featured Programs:
Capella University is accredited by the Higher Learning Commission and offers an Online Bachelor's in Psychology. This program is modeled around the American Psychological Association (APA) Guidelines. APA does not accredit undergraduate psychology programs. Capella University, also offers several Online Master's and Doctoral programs in Psychology including both clinical and non-clinical specializations. Visit School's Website.

---

New York University - Master of Arts in Counseling and Guidance online - No GRE required. MPCAC-accredited. Complete in as few as 18 months. Bilingual concentration available. Scholarships available.Click Here to request information today.

---

Pepperdine University - Master of Arts in Clinical Psychology with an Emphasis in Marriage and Family Therapy online - Prepare to pursue licensure as an LMFT or LPC in as few as 24 months. No GRE required. Visit School's Website.

---
<!- /mfunc feat_school ->
If You Are a High School Student or Undergraduate
Step 1: Use your high school years to get a solid academic foundation. Rigorous mathematics, science, and composition coursework will be expected. Psychology coursework is optional at this stage.
It's also recommended that you begin community service in high school. You may ask a school guidance counselor for suggestions or visit the Volunteer Mississippi website (http://volunteermississippi.org).
Step 2: Plan your undergraduate studies. It is advantageous to be an undergraduate psychology major. However, it is not necessarily enough. The University of Mississippi recommends that students who plan to pursue graduate studies arrange to take independent studies courses. Independent study includes internship and research experiences.
Step 3: Excel. Aim for a GPA of 3.8, especially during your final two years. Recognize that you may be quite competitive despite a lower GPA if you are strong enough in other areas. If you join the Psi Chi honor society or American Psychological Association, you will have opportunities to develop leadership skills. You may also compete for summer fellowships.
You may want to take the GRE and begin gathering references senior year.
If You Have a College Degree
Step 4: Prepare for the admission process. Take the GRE if you have not done so already. If you were not a psychology major, you may have additional preparation. The University of Southern Mississippi notes that individuals with other majors are welcome to apply but need some coursework in areas like research methods and abnormal psychology.
If you are concerned about being accepted to a doctoral program in Psychology after completing your bachelor's degree due to lower or insufficient academic achievement, you may want to apply to master's programs first.
Capella University is accredited by the Higher Learning Commission and offers several online bachelor's, master's and doctoral programs in psychology including both clinical and non-clinical specializations. Capella University also offers three online CACREP-accredited programs: MS in Clinical Mental Health Counseling, MS in School Counseling, and PhD in Counselor Education and Supervision, as well as a COAMFTE-accredited program, MS in Marriage and Family Therapy. Click here to contact Capella University and request information about their programs.
Step 5: Meanwhile research doctoral programs in psychology. Your program must be housed in a regionally accredited institution. It must be APA-accredited unless it is in a specialty that is not recognized by the APA; in this case, the program may be recognized by the Association of State and Provincial Psychology Boards and the National Register of Health Service Providers. The Mississippi Board will also recognize programs accredited by the Canadian Psychological Association and new programs working toward accreditation. You specialization will determine your eventual area of practice.
The APA accredits clinical, counseling, and school psychology programs as well as combination programs; a number of subspecialties are possible. Some schools expect you to identify and even contact potential mentors in advance.
Step 6: Begin doctoral several studies. You will spend a minimum of three to four years immersed in research, doctoral coursework, and practical training. Successful practicum experiences will help you compete for positions at the internship level.
Step 7: Complete your internship. The Mississippi Board expects internships to be accredited by the APA or CPA (or at least working toward accreditation). Others, however, may be accepted on a case-by-case basis.
Your internship will likely not be obtained directly through your school; it may or may not be in the same geographic location. You may search for Mississippi internships through the APA website. You will go through a competitive process whereby you gather references, rank prospective internships, and attend interviews. Your internship must be appropriate to your graduate training. It will take one full-time year or two part-time years. It will comprise at least 2,000 hours.
Step 8: Complete additional licensing requirements, including postdoctoral supervised practice. You will submit a supervision plan to the Mississippi Board. You will also need to take the Examination for Professional Practice in Psychology (EPPP) and a state oral examination.
*Find more detailed psychologist licensure information for Mississippi here.
Licensing Agency