Becoming a Psychologist in Michigan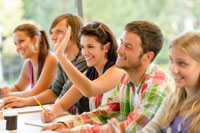 In order to achieve full licensure to practice psychology in Michigan, you will need a doctoral degree. Even a limited license requires at least a master's. It can be a long path. Early planning can help, but with a strong enough foundation, it's possible to enter the field as a second career.
<!- mfunc feat_school ->
Sponsored School(s)
Featured Programs:
Capella University is accredited by the Higher Learning Commission and offers an Online Bachelor's in Psychology. This program is modeled around the American Psychological Association (APA) Guidelines. APA does not accredit undergraduate psychology programs. Capella University, also offers several Online Master's and Doctoral programs in Psychology including both clinical and non-clinical specializations. Visit School's Website.

---

New York University - Master of Arts in Counseling and Guidance online - No GRE required. MPCAC-accredited. Complete in as few as 18 months. Bilingual concentration available. Scholarships available.Click Here to request information today.

---

Pepperdine University - Master of Arts in Clinical Psychology with an Emphasis in Marriage and Family Therapy online - Prepare to pursue licensure as an LMFT or LPC in as few as 24 months. No GRE required. Visit School's Website.

---
<!- /mfunc feat_school ->
If You Are a High School Student or Undergraduate
Step 1: Build a strong academic foundation during your high school years. Volunteer work can serve as a form of career exploration. You may want to visit the website of the Michigan Community Service Commission (http://www.michigan.gov/mcsc/0,1607,7-137-6115—,00).
Step 2: Consider majoring in psychology or a related field. Coursework in other disciplines, including the natural sciences, can also support your career goals.
Step 3: Involve yourself in research at the undergraduate level. The University of Michigan notes that there are multiple reasons to do so. The experience will look good to graduate admission committees. It will also allow you to interact with faculty on a closer level. This can mean references – and a chance to have your questions answered.
Your department website may list research projects and contacts. The honors program may provide you with additional opportunities. You can also compete for summer internships at other institutions.
Step 4: Keep your grades up. With a GPA of 3.7, you will be on a par with the average admitted student at competitive doctoral programs. With a GPA below 3.0, you may still be in the running at some professional schools. However, your options will be more limited.
The GRE is one opportunity to display academic aptitude.
If You Have a College Degree
Step 5: Research doctoral programs. Michigan requires that doctoral programs be housed in regionally accredited institutions; 75% of the courses must be "primarily psychological". Some states require doctoral programs to be APA-accredited or equivalent. Even with this stipulation, there are a lot of choices. Both the process and the selection criteria will vary from school to school. Research-heavy PhD programs may want you to identify potential mentors before application. PsyD programs typically place more emphasis on practice. They may value experience in human services, for example, social work.
Step 6: You may opt for a master's degree. Some programs simultaneously prepare you for limited licensure and give you a foundation for doctoral level study.
If you are concerned about being accepted to a doctoral program in Psychology after completing your bachelor's degree due to lower or insufficient academic achievement, you may want to apply to master's programs first.
Capella University is accredited by the Higher Learning Commission and offers several online bachelor's, master's and doctoral programs in psychology including both clinical and non-clinical specializations. Capella University also offers three online CACREP-accredited programs: MS in Clinical Mental Health Counseling, MS in School Counseling, and PhD in Counselor Education and Supervision, as well as a COAMFTE-accredited program, MS in Marriage and Family Therapy. Click here to contact Capella University and request information about their programs.
Step 7: Begin graduate studies. Some PhD programs utilize a mentorship model. You may receive a stipend in exchange for serving as a research and teaching assistant. You will begin to gain clinical experience through practicum as early as the first year.
Step 8: Prepare for internship year. Students in your program may go through a competitive process to secure APA internships. If this is the case, you will rank your top choices from Michigan and around the nation; they in turn will rank you. Some programs form consortiums to provide local placements.
Step 9: Complete your internship. Michigan expects 2,000 hours of internship. If you apply for a master's limited license, your pre-degree requirements will be lower: 500 practicum hours. In either case, you will need to have your supervisor provide verification to the Michigan Board.
Step 10: You must accrue 2,000 post-degree hours working under supervision. You will need to apply to the Michigan Board for a limited license. You will have a criminal background check.
If you have a master's limited license, you will need some supervision on an ongoing basis (unless the agency you work for is exempt).
Step 11: Take the Examination for Professional Practice in Psychology (EPPP). You will become eligible when your limited license has been approved.
*Find more detailed psychologist licensure information for Michigan here.
Licensing Agency
Michigan Board of Psychology http://www.michigan.gov/lara/0,4601,7-154-35299_63294_27529_27552-59190–,00