Becoming a Psychologist in Maine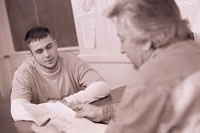 You will do your psychologist training in graduate school. You will likely need to take a few prerequisites before admission. With a strong academic and professional background, you can enter a psychologist training program at virtually any stage of life.
<!- mfunc feat_school ->
Sponsored School(s)
Featured Programs:
Capella University is accredited by the Higher Learning Commission and offers an Online Bachelor's in Psychology. This program is modeled around the American Psychological Association (APA) Guidelines. APA does not accredit undergraduate psychology programs. Capella University, also offers several Online Master's and Doctoral programs in Psychology including both clinical and non-clinical specializations. Visit School's Website.

---

New York University - Master of Arts in Counseling and Guidance online - No GRE required. MPCAC-accredited. Complete in as few as 18 months. Bilingual concentration available. Scholarships available.Click Here to request information today.

---

Pepperdine University - Master of Arts in Clinical Psychology with an Emphasis in Marriage and Family Therapy online - Prepare to pursue licensure as an LMFT or LPC in as few as 24 months. No GRE required. Visit School's Website.

---
<!- /mfunc feat_school ->
If You Are a High School Student or Undergraduate
Step 1: Take a general college prep curriculum in high school. Make sure that you have a solid background in laboratory sciences, mathematics, and communications.
Step 2: Meanwhile, do some career exploration. One extracurricular option is HOSA, the Health Occupations Student Association; you can build your speaking and research skills as well as your knowledge of health professions. If you take psychology coursework, you have the option of joining the American Psychological Association as a student. You can browse resources on the website regardless of whether you become a member.
Step 3: Strongly consider doing an undergraduate degree in psychology. This will allow you to take more psychology coursework than the minimum prerequisites. You will be able to take electives from various specialties, for example, abnormal psychology and developmental psychology. Maintain a high GPA; the University of Maine notes that applications from students with GPAs below 3.3 are often rejected.
Step 4: Seek out research experiences. Your department will likely be able to provide you with contact information for professors who are willing to take on undergraduate research assistants. You may also consider completing a senior thesis. However, if you wait until senior year to begin getting research experience, it can mean that you will not be ready to submit applications on the usual time schedule. (You typically do this early in your senior year.)
If You Have a College Degree
Step 5: If you are concerned about being accepted to a doctoral program in Psychology after completing your bachelor's degree due to lower or insufficient academic achievement, you may want to apply to master's programs first.
Capella University is accredited by the Higher Learning Commission and offers several online bachelor's, master's and doctoral programs in psychology including both clinical and non-clinical specializations. Capella University also offers three online CACREP-accredited programs: MS in Clinical Mental Health Counseling, MS in School Counseling, and PhD in Counselor Education and Supervision, as well as a COAMFTE-accredited program, MS in Marriage and Family Therapy. Click here to contact Capella University and request information about their programs.
Research graduate programs. The program may be accredited by the American Psychological Association, Canadian Psychological Association, or (in the case of school psychology programs) by the National Association of School Psychologists. It may also be accepted if it is listed in the 'Doctoral Psychology Programs Meeting Designation Criteria' publication put out by the Association of State and Provincial Psychology Boards.
Step 6: Meanwhile prepare to apply to your top choices. The GRE is an almost universal requirement. If the program is heavy on research, the admission committee may favor candidates who have similar research interests.
Step 7: Complete doctoral coursework and fieldwork. Early supervised experiences are usually termed practica; academic credit is awarded. Your dissertation is a substantive research project that may reflect one or more years of scholarship.
Step 8: Complete your internship. You will work at least 1,500 hours over a period of at least 48 weeks. You will have two hours a week of individual supervision and two hours a week of learning experiences such as seminars or case conferences.
Step 9: Seek out a position where you can complete your postdoctoral residency. This is also to be an organized training experience; the postdoctoral residency will typically provide more specialized training than the pre-doctoral experience. You will need to apply to the Maine Board of Examiners for conditional licensure. You must have an agreement with a supervisor. You will have a criminal background check upon application.
Step 10: Complete your supervised practice requirement. During a typical week, you will have at least an hour of individual supervision and an hour of additional learning activities. You may work full-time or part-time (16 to 40 hours a week). You may complete the requirement in as little as 48 weeks.
Step 11: Take the required examinations. After you pass the state jurisprudence examination, you will take the Examination for Professional Practice in Psychology.
*Find more detailed psychologist licensure information for Maine here.
Licensing Agency
Maine Board of Examiners of Psychologists http://www.maine.gov/pfr/professionallicensing/professions/psychologists/