Becoming a Psychologist in Louisiana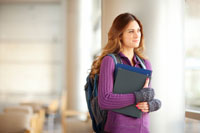 Psychologist training takes place at the doctoral level. If you are considering the career, you may want to do some early planning. You'll have the most options if you have a very good academic record and some related experience.
<!- mfunc feat_school ->
Sponsored School(s)
Featured Programs:
Capella University is accredited by the Higher Learning Commission and offers an Online Bachelor's in Psychology. This program is modeled around the American Psychological Association (APA) Guidelines. APA does not accredit undergraduate psychology programs. Capella University, also offers several Online Master's and Doctoral programs in Psychology including both clinical and non-clinical specializations. Visit School's Website.

---

New York University - Master of Arts in Counseling and Guidance online - No GRE required. MPCAC-accredited. Complete in as few as 18 months. Bilingual concentration available. Scholarships available.Click Here to request information today.

---

Pepperdine University - Master of Arts in Clinical Psychology with an Emphasis in Marriage and Family Therapy online - Prepare to pursue licensure as an LMFT or LPC in as few as 24 months. No GRE required. Visit School's Website.

---
<!- /mfunc feat_school ->
If You Are a High School Student or Undergraduate
Step 1:
At the high school level, it's more important to take rigorous coursework and earn good grades than it is to take a particular course of study. You may have the option of taking one or more psychology courses before college. This is more about exploration than preparation.
Step 2:
Explore your top careers and begin to build your resume. This may include volunteer work. If your record is very good, you can get a research internship as a high school student. One option is the High School and Undergraduate Student Summer Research Program offered by the LSU Department of Medicine. There are other programs in different parts of the nation.
Step 3:
Begin undergraduate studies. You may consider the strength of the psychology program even at this level. While it is possible to enter a graduate psychology program without a BS or BA in psychology, it can be advantageous. It's not always enough just to be a psych major – or even to earn high grades. Look for opportunities to distinguish yourself at the college level, just as you did in high school. You may be more aware of service and research opportunities if you join a psychology club or professional association.
Step 4:
Develop your research skills. Many graduate programs expect this experience. You can get some by doing an independent project. This may be an option even if it's not mandated; some students complete their thesis through the honors department.
You don't have to wait until senior year to begin research. You may find volunteer opportunities in the labs associated with your school's psychology department.
If You Have a College Degree
Step 5:
If you are concerned about being accepted to a doctoral program in Psychology after completing your bachelor's degree due to lower or insufficient academic achievement, you may want to apply to master's programs first.
Capella University is accredited by the Higher Learning Commission and offers several online bachelor's, master's and doctoral programs in psychology including both clinical and non-clinical specializations. Capella University also offers three online CACREP-accredited programs: MS in Clinical Mental Health Counseling, MS in School Counseling, and PhD in Counselor Education and Supervision, as well as a COAMFTE-accredited program, MS in Marriage and Family Therapy. Click here to contact Capella University and request information about their programs.
Spend some time preparing for the GRE and then apply to your top psychology programs. If your program is APA-accredited, you can be sure it will meet licensing standards. If you are considering a program that is not APA-accredited, do some research. The program will be license-qualifying if it meets state requirements; these are summarized in the application packet.
Step 6:
Begin doctoral studies. Your program will include a dissertation. You will provide a copy to the Louisiana Board later when you apply for licensure. Your early clinical experiences will be in the form of practicum. Louisiana requires a minimum of 300 practicum hours before internship. Some students do significantly more. Practicums are a chance to build references as well as gain experience.
Step 7:
Complete your internship. You go through a competitive process to be placed in an APA-accredited internship. You will need to put in substantial time preparing application materials as well as researching and ranking potential internships. The APA website has a list of internships located in Louisiana. Your list may include internships in other states.
The Louisiana Board will only credit non-APA internships if they meet an extensive list of standards. Again, these are summarized in application materials.
Step 8:
Take steps toward licensure. Apply to the Louisiana State Board. You will have a criminal background check. Once the Board has determined you are a candidate, you will be able to take the Examination for Professional Practice in Psychology (EPPP).
Step 9:
Complete your postdoctoral supervised practice. You will work under a supervision plan.
Step 10:
Finish the examination process. You will take jurisprudence and oral examinations. The jurisprudence examination is take-home.
*Find more detailed psychologist licensure information for Louisiana here.
Licensing Agency