Becoming a Psychologist in Indiana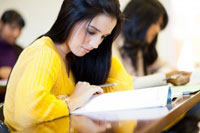 To provide direct services as a psychologist in Indiana, you will need a license and a health provider certification. Your credentials are the culmination of years of graduate study. Here are some tips to get you started.
<!- mfunc feat_school ->
<!- /mfunc feat_school ->
If You Are a High School Student or Undergraduate
Step1: In high school, take a general college preparatory curriculum. Meanwhile, involve yourself in community service or volunteer work. You may want to visit the site of the Youth Philanthropy Initiative of Indiana (http://www.ypin.org/PartnerNetwork/PartnerNetwork.aspx) or Youth as Resources (http://www.uwci.org/programs/youth-as-resources).
Step 2: Allow plenty of time for the undergraduate admission process. If you are relocating for school, you may want to consider the strength of the undergraduate psychology program and any special programs that are offered. It's not essential. Different schools will have different timelines for declaring a major. You will probably want to meet with an advisor.
Step 3: Go beyond minimum graduation requirements as an undergraduate. Indiana State University suggests taking a little more math, science, English, and speech than what your school actually requires. You will also need to keep your grades up. You typically have better prospects if your GPA is above 3.5.
Step 4: Seek research experience. Your department website may provide you with information about projects and/ or faulty members looking for research assistants. An undergraduate thesis is another option. Some schools will look at your thesis or other scholarly writings; in other instances, you may list them on your resume.
If you have a strong interest in research, you can compete for summer internships. You may also have the opportunity to do a service-oriented undergraduate internship. Indiana University suggests that you use career services as a resource. Among the in-state possibilities: working with youth at the Bowen Center, working as a therapy assistant to provide educational services to children at Milestones Therapeutic Services, or doing crisis line and administrative work at Middle Way House. There are lots more options.
Step 5: Begin preparing for grad school. Indiana State University recommends beginning to narrow your grad school options during your junior year; you may still have well over 20 on the radar. You may also make initial queries of faculty members regarding recommendation letters at this time. (You will provide the details – and the envelopes – later.)
If You Have a College Degree
Step 6: Submit application materials to your top choices. The application process can be lengthy. Be prepared to attend interviews.
If you are not ready to apply to doctoral programs, A master's can also be a stepping stone toward a doctoral degree.
Capella University is accredited by the Higher Learning Commission and offers several online bachelor's, master's and doctoral programs in psychology including both clinical and non-clinical specializations. Capella University also offers three online CACREP-accredited programs: MS in Clinical Mental Health Counseling, MS in School Counseling, and PhD in Counselor Education and Supervision, as well as a COAMFTE-accredited program, MS in Marriage and Family Therapy. Click here to contact Capella University and request information about their programs.
Step 7: Begin your doctoral studies. You may take a lot of traditional courses during your first couple of years. Your practica will give you experience with assessment and intervention. You may spend some time teaching. Clinical practicum typically involves actual service delivery, for example, providing counseling services to students. You may be able to credit post-master practicum (completed after 48 semester hours of coursework and completion of basic practicum) toward your supervised practice requirement.
Step 8: Complete your internship. The Indiana Board requires psychologists who will be providing direct (health care) services have a year experience in an organized training program. You typically have to apply for your internship; it often takes place at a separate location.
Step 9: Complete your remaining license and certification requirements. If you seek health services certification and do not have qualifying practicum, you will have 1,600 hours to complete at the post-internship level.
Two examinations are required. The state jurisprudence examination is first; later you will take the Examination for Professional Practice in Psychology.
*Find more detailed psychologist licensure information for Indiana here.
Licensing Agency
Indiana State Psychology Board http://www.in.gov/pla/2610.htm