Becoming a Psychologist in Idaho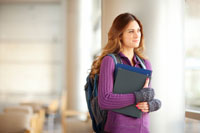 If you are intent on becoming a psychologist, it's a good idea to start preparations early. However, it's not too late even if you have a degree and a career. Here are some tips to guide you.
<!- mfunc feat_school ->
Sponsored School(s)
Featured Programs:
Capella University is accredited by the Higher Learning Commission and offers an Online Bachelor's in Psychology. This program is modeled around the American Psychological Association (APA) Guidelines. APA does not accredit undergraduate psychology programs. Capella University, also offers several Online Master's and Doctoral programs in Psychology including both clinical and non-clinical specializations. Visit School's Website.

---

New York University - Master of Arts in Counseling and Guidance online - No GRE required. MPCAC-accredited. Complete in as few as 18 months. Bilingual concentration available. Scholarships available.Click Here to request information today.

---

Pepperdine University - Master of Arts in Clinical Psychology with an Emphasis in Marriage and Family Therapy online - Prepare to pursue licensure as an LMFT or LPC in as few as 24 months. No GRE required. Visit School's Website.

---
<!- /mfunc feat_school ->
If You Are a High School Student or Undergraduate
Step 1: Prepare for general college admission. Develop your writing and research skills. This is also the time to begin community service or other career exploration. You may want to check out organizations like Special Olympics Idaho. If you are a very strong student, you may secure a summer research internship.
Step 2: Go through the college admission and enrollment process. You won't have to declare a psychology major at the onset, but you will want to begin taking psychology courses.
Step 3: Maintain a high GPA during your undergraduate years. Some schools pay particular attention to the final two years. A 3.0 may be enough if you are very strong in other areas. However, the typical student admitted to a PhD program has a much higher average. This will vary by school, but may be about 3.8.
Step 4: Do more than meet degree requirements. You will have some exposure to research as part of your program, but it may be minimal. You can seek out additional opportunities. Your program may have several labs that you can select from. You can also seek out summer research opportunities. Some of these are nationally advertised.
Clubs and professional organizations will help you stay involved. There may be a psychology club that you can join freshman year. If your performance is high enough, you may have the opportunity to join the Psi Chi honor society. Psychology students at virtually every level are eligible to become student affiliates of the American Psychological Association. Even if you don't join, you may want to use the APA website as a resource.
If You Have a College Degree
Step 5: Begin preparing for graduate school admission. You generally need to take the GRE general aptitude test. Some schools require the GRE subject test in psychology. It may be an option even if not required. Decide if you are ready to apply to your top schools or need additional experience. If you were not a psychology major, you may have prerequisites like statistics and abnormal psychology.
If you are concerned about being accepted to a doctoral program in Psychology after completing your bachelor's degree due to lower or insufficient academic achievement, you may want to apply to master's programs first.
Capella University is accredited by the Higher Learning Commission and offers several online bachelor's, master's and doctoral programs in psychology including both clinical and non-clinical specializations. Capella University also offers three online CACREP-accredited programs: MS in Clinical Mental Health Counseling, MS in School Counseling, and PhD in Counselor Education and Supervision, as well as a COAMFTE-accredited program, MS in Marriage and Family Therapy. Click here to contact Capella University and request information about their programs.
Step 6: Meanwhile, research doctoral programs that are offered through accredited institutions. If your program is not APA-accredited, you will need to document that it includes Board-mandated courses. There are many possibilities. You can narrow your choices by reading about faculty research interests – and by considering the profile of the typical student.
Step 7: Complete doctoral requirements. In addition to required courses, you will carry out research. Research requirements are typically higher in a PhD program than a PsyD program. Your early clinical work generally takes the form of practicum experiences; these may take place in local mental health agencies.
Although Idaho law does not specifically mandate that your supervised experience include a year of pre-doctoral internship, your program will likely require it. You may go through a matching process through a centralized organization. You will prepare application materials, including references, and rank your choices.
Step 8: Secure a position where you can complete your supervised practice requirement. Idaho requires at least one year of post-doctoral practice. If you did not complete a full year of internship or other qualifying experience at the pre-doctoral level, your requirement will be higher – you must document a total of two years of experience. You will need to file some paperwork with the Idaho Board at the onset of practice. The Examination for Professional Practice in Psychology is an additional licensing requirement.
*Find more detailed psychologist licensure information for Idaho here.
Licensing Agency