Becoming a Psychologist in Hawaii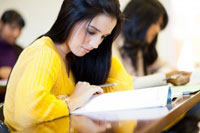 You can make the decision to become a psychologist at virtually any point along the way. However, the path will be shorter and more direct if you take steps well in advance.
<!- mfunc feat_school ->
Sponsored School(s)
Featured Programs:
Capella University is accredited by the Higher Learning Commission and offers an Online Bachelor's in Psychology. This program is modeled around the American Psychological Association (APA) Guidelines. APA does not accredit undergraduate psychology programs. Capella University, also offers several Online Master's and Doctoral programs in Psychology including both clinical and non-clinical specializations. Visit School's Website.

---

New York University - Master of Arts in Counseling and Guidance online - No GRE required. MPCAC-accredited. Complete in as few as 18 months. Bilingual concentration available. Scholarships available.Click Here to request information today.

---

Pepperdine University - Master of Arts in Clinical Psychology with an Emphasis in Marriage and Family Therapy online - Prepare to pursue licensure as an LMFT or LPC in as few as 24 months. No GRE required. Visit School's Website.

---
<!- /mfunc feat_school ->
If You Are a High School Student or Undergraduate
Step 1:
Meet with a counselor to plan your high school studies. There are no specific courses you need to take other than general college prep. However, you may opt for high school psychology. Advanced placement coursework may prove helpful, whether it's in psychology, research, statistics, laboratory science or composition.
It's good to begin volunteer service at this stage. It is a form of career exploration and can give you references when it's time to apply to college.
Step 2:
Begin college studies. Students who enter doctoral programs in psychology most often are psychology majors. You can generally take multiple psychology courses before declaring a major. As a psychology major, you can explore different sub-disciplines. You may have the opportunity to join the psychology honor society and participate in service and leadership activities.
Step 3:
Distinguish yourself during your undergraduate years. Consider doing a thesis. You can look for research opportunities long before senior year. Your department website will likely have a list of faculty members and research interests. The experience can make you more competitive; it can also confirm your interest in a particular branch of psychology and give you material to write about in your personal statement.
If You Have a College Degree
Step 4:
Take any needed steps to make yourself a competitive candidate. Spend some time preparing for the GRE. If you do not have an undergraduate major or minor in psychology, you will likely need to take some prerequisites. Some individuals opt for psychology master's programs first, and then transfer to doctoral programs later. The APA has resources for making the transition.
If you are concerned about being accepted to a doctoral program in Psychology after completing your bachelor's degree due to lower or insufficient academic achievement, you may want to apply to master's programs first.
Capella University is accredited by the Higher Learning Commission and offers several online bachelor's, master's and doctoral programs in psychology including both clinical and non-clinical specializations. Capella University also offers three online CACREP-accredited programs: MS in Clinical Mental Health Counseling, MS in School Counseling, and PhD in Counselor Education and Supervision, as well as a COAMFTE-accredited program, MS in Marriage and Family Therapy. Click here to contact Capella University and request information about their programs.
Step 5:
Submit applications to doctoral programs. Your program may hold program-level accreditation through the APA or be housed in a regionally accredited institution and in accordance with Hawaii's coursework requirements. Any APA-accredited clinical psychology program is deemed to meet requirements. There are many options; you may narrow them by consulting with undergraduate professors and/ or reading faculty bios. It is often necessary to put in several applications. However, an applicant is generally expected to hold no more than two offers before making a decision.
Step 6:
Complete coursework, dissertation, and practicum requirements. Use practicum experiences to leverage your career. You can again turn to the APA for resources to help you have a successful practicum experience. You will need references when you apply for your internship. It will also help to have expertise in a particular branch of the discipline.
Step 7:
Complete your internship requirement. Hawaii will accept either an APA-accredited internship or other formal training program; in some instances, the experience may be termed 'residency'. The supervisor must meet standards set by the state. The experience must be at least 1,900 hours.
Doctoral students compete for APA-accredited internships (as well as some non-accredited internships) by going through a process called 'the Match'. They rank order prospective internships and go through an interview process. The APA has a list of accredited internships in Hawaii (http://www.apa.org/ed/accreditation/programs/internships-state.aspx?item=7). Organizations like the Hawaii Psychology Internship Consortium (HI-PIC) offer non-APA in-state options. Some individuals do relocate for internship year.
Step 8:
Complete your post-doctoral supervised practice requirement. The requirement is 1,900 hours. You will again need to compete for a position. Your choices may be broader.
Step 9:
Take the Examination for Professional Practice in Psychology. You will need the permission of the Hawaii Board.
*Find more detailed psychologist licensure information for Hawaii here.
Licensing Agency
Professional and Vocational Licensing: Psychology (http://hawaii.gov/dcca/pvl/boards/psychology)