Becoming a Psychologist in Georgia
Your psychologist preparation officially begins when you enter a doctoral program. However, the path to success begins years earlier. Here are some tips for becoming a psychologist; you can use them whether you are still in high school or already hold a degree.
<!- mfunc feat_school ->
Sponsored School(s)
Featured Programs:
Capella University is accredited by the Higher Learning Commission and offers an Online Bachelor's in Psychology. This program is modeled around the American Psychological Association (APA) Guidelines. APA does not accredit undergraduate psychology programs. Capella University, also offers several Online Master's and Doctoral programs in Psychology including both clinical and non-clinical specializations. Visit School's Website.

---

New York University - Master of Arts in Counseling and Guidance online - No GRE required. MPCAC-accredited. Complete in as few as 18 months. Bilingual concentration available. Scholarships available.Click Here to request information today.

---

Pepperdine University - Master of Arts in Clinical Psychology with an Emphasis in Marriage and Family Therapy online - Prepare to pursue licensure as an LMFT or LPC in as few as 24 months. No GRE required. Visit School's Website.

---
<!- /mfunc feat_school ->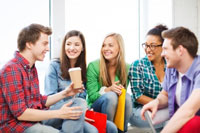 If You Are a High School Student or Grad
Step 1:
Take a general college preparatory curriculum. Make sure you are prepared for college level writing, science, and statistics courses. Meanwhile, do some career exploration. You may opt to become a member of the Health Occupations Students Association (HOSA). This will give you the opportunity to practice speaking skills and even compete in events like researched persuasive speaking or human growth and development. You may also become a student member of the American Psychological Association – this will give you access to plenty of psychology resources.
Step 2:
Matriculate to the university and begin general studies and psychology coursework. Maintain high grades and participate actively in class. Also consider volunteer service; you may locate opportunities through your school or through sites like Hands on Atlanta. You will need references when you apply for graduate school. You may also need references for summer programs.
Step 3:
Seek out research opportunities. You may find opportunities by studying faculty profiles and by participating in psychology-related organizations. Once you have some experience, you can add yourself to a national registry.
If You Have a College Degree
Step 4:
Take the GRE and gather references. You can, if you need, take time off from school to work in a research lab or gain human service experience.
Meanwhile, research APA-accredited graduate programs. The Georgia Board requires licensed psychologists (with the exception of those who practice industrial-organizational psychology or who were educated abroad) to attend programs with this accreditation. You will be able to select from several specialties including clinical and counseling psychology. You may consider faculty research interests. You will also consider practical aspects, including the level of competition.
If you are concerned about being accepted to a doctoral program in Psychology after completing your bachelor's degree due to lower or insufficient academic achievement, you may want to apply to master's programs first.
Capella University is accredited by the Higher Learning Commission and offers several online bachelor's, master's and doctoral programs in psychology including both clinical and non-clinical specializations. Capella University also offers three online CACREP-accredited programs: MS in Clinical Mental Health Counseling, MS in School Counseling, and PhD in Counselor Education and Supervision, as well as a COAMFTE-accredited program, MS in Marriage and Family Therapy. Click here to contact Capella University and request information about their programs.
Step 5:
Complete doctoral coursework. Your doctoral studies will be more individualized than your undergraduate studies. You will likely have a mentor and a dissertation committee. You begin to take on psychologist roles during practicum.
Step 6:
Apply for and complete your internship. It must be APA-accredited, hold membership in the Association of Psychology and Internship Centers (APPIC), or meet equivalent standards. Doctoral students go through a matching process to find APA internships. It is necessary to submit an application package with references. You will rank order internships that most interest you. You may attend several interviews. A list of accredited Georgia internships is available on the APA site (http://www.apa.org/ed/accreditation/programs/internships-state.aspx?item=6). Finding the most appropriate internship, though, sometimes means relocating to a different state.
Step 7:
Apply to the Georgia State Board of Examiners of Psychologists. Application will allow you to begin the examination process. You may take the Examination for Professional Practice in Psychology after doctoral requirements have been met. Once you have taken and passed the EPPP, you will be eligible to take the state jurisprudence examination.
Step 8:
Seek a position where you can complete your postdoctoral supervised practice requirement. The experience must be at least 1,500 hours and must meet other standards set by the state. You may submit a contract for pre-approval.
Step 9:
Complete your oral examination. You will submit a case study in preparation. You must be within a couple of months of completion of your supervised practice before you can be scheduled.
Psychology is a broad discipline. The purpose of the oral examination is to find out about your intended areas of practice and to make sure you do not have deficiencies which would preclude you from carrying them out. When this last step is complete, you will receive your license.
*Find more detailed psychologist licensure information for Georgia here.
Licensing Agency