Becoming a Psychologist in the District of Columbia
The path to psychologist licensure will not end until after you have earned a doctoral degree. You can begin the journey at multiple points and exit with a career at multiple points. Here are some tips for reaching the goal, whether you are still in high school or already hold a degree.
<!- mfunc feat_school ->
<!- /mfunc feat_school ->
If You Are a High School Student or Undergraduate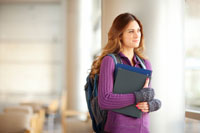 Step 1:
Prepare for general college admission. Make sure you are ready to write college level academic papers and lab reports and that you are prepared for advanced mathematics courses like statistics. Also begin to collect references. Volunteering is a good idea. You may check out the Serve DC website.
Step 2:
Apply and enroll at your chosen university. Consider psychology and closely related fields. You will need some psychology coursework to be competitive at the graduate level. You will also be at an advantage if you know what specialty you are interested in and what lines of research you want to pursue – and if you have had concrete experiences that foretell success.
Step 3:
Go beyond minimum degree requirements. Maintain a high GPA. You may opt for membership in the Psi Chi honor society or the American Psychological Association. There are opportunities for leadership within the APA. The APA is also a good source of general information for psychology students.
Step 4:
Consider research and independent study options. You may receive credit for research activities; options will vary by school. In some instances, undergraduate research is funded through grant money. You may also have the opportunity to do an undergraduate internship. One option is DC's Department of Health College Student Internship Program (DOHCSIP). Summer fellowships are offered at institutions around the nation.
If You Have a College Degree
Step 1:
Begin preparing for graduate school admission. You will need to take the GRE. You will also need strong references and a compelling personal statement.
Step 2:
Meanwhile, identify the doctoral programs that best meet your needs. Your program may be accredited by the American Psychological Association or designated by the Association of State and Provincial Psychology Boards or the National Register. You may consider faculty research interests when deciding which programs to apply to.
You may opt for a master's program instead of going straight for a doctorate. It is possible to be licensed as a Psychological Associate in the District of Columbia with a degree at the master's level.
Capella University is accredited by the Higher Learning Commission and offers several Master's and Doctoral programs in Psychology including Counseling Psychology and Clinical Psychology. Capella University, also offers three online CACREP- accredited master's programs: Clinical Mental Health Counseling, Marriage and Family Therapy, and School Counseling. Click here to contact Capella University and request information about their programs.
Step 3:
Begin doctoral studies. Expect specialized coursework, field experience, research, and comprehensive examination. Early supervised experiences may be termed externship or practicum. If you did not complete a separate master's program, you may do a master's thesis before dissertation.
Step 4:
Complete supervised experience requirements. A total of 4,000 hours will be required; this is the equivalent of two full-time years. At least 2,000 hours must be postdoctoral. While DC does not specifically mandate predoctoral internship, it is likely that your doctoral program will include an internship requirement. It may be the norm to go through the American Psychological Association or the Association of Psychology Postdoctoral and Internship Centers. The process is highly competitive.
Your experience must include supervision at the level required by the DC Board. You will need to file a notification of supervision.
Step 5:
Complete licensing requirements. Take the required examinations. You will take a national board examination and a DC jurisprudence examination. You will need to be familiar with legalities and ethical standards. Study materials are available on the Department of Health website. An interview may be required. The interview will not disqualify a candidate unless there is evidence of some violation.
*Find more detailed psychologist licensure information for DC here.
Licensing Agency
DC Department of Health (http://doh.dc.gov/service/psychology-licensing)