Becoming a Psychologist in Connecticut
A psychology license represents the culmination of many years of work. Technically, your preparation begins when you enter a PhD or PsyD program. In a sense, though, it begins many years earlier.
<!- mfunc feat_school ->
Sponsored School(s)
Featured Programs:
Capella University is accredited by the Higher Learning Commission and offers an Online Bachelor's in Psychology. This program is modeled around the American Psychological Association (APA) Guidelines. APA does not accredit undergraduate psychology programs. Capella University, also offers several Online Master's and Doctoral programs in Psychology including both clinical and non-clinical specializations. Visit School's Website.

---

New York University - Master of Arts in Counseling and Guidance online - No GRE required. MPCAC-accredited. Complete in as few as 18 months. Bilingual concentration available. Scholarships available.Click Here to request information today.

---

Pepperdine University - Master of Arts in Clinical Psychology with an Emphasis in Marriage and Family Therapy online - Prepare to pursue licensure as an LMFT or LPC in as few as 24 months. No GRE required. Visit School's Website.

---
<!- /mfunc feat_school ->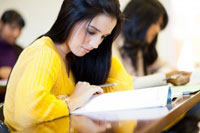 If You Are a High School Student or Grad
Step 1:
Take a rigorous high school curriculum. Make sure you will be prepared for courses like college statistics. For a head start, you can take AP statistics or psychology. Other advanced coursework, such as composition or laboratory science, will also be useful. This is also a good time to begin volunteer work. The American Psychological Association notes that people who apply to graduate psychology programs often say that they want to help people, but not all have the background to know that psychology is for them.
Step 2:
Apply to your top universities. While most schools will offer a psychology BS or BA, they won't all offer the same curriculum choices or extra opportunities. You may consider distinguished faculty or notable programs. Some schools give you the opportunity to concentrate your studies in a particular area, for example, developmental psychology.
Step 3:
Distinguish yourself as an undergraduate. Get to know your professors. Ideally, they will be able to say far more about you than that you got good grades. You can turn to the APA for everything from tips on formatting a psychology paper to seeking out extracurricular opportunities.
Step 4:
Look for research opportunities. This could mean an arrangement with a faculty member at your school or a formal summer program, for example, the Research Experiences for Undergraduates in Complex Psychology Systems program offered by the University of Connecticut. There are similar opportunities around the nation.
Consider doing an honors thesis if your program does not include a senior project or thesis.
If You Have a College Degree
Step 1:
Spend time preparing for the GRE. Also seek out references and give thought to your personal statement. It should include sufficient detail drawn from your education and experiences. Some students take a year to gain experience in a research setting or other setting related to future work interests; this strategy may be of value if you are coming from a background other than psychology.
If you are concerned about being accepted to a doctoral program in Psychology after completing your bachelor's degree due to lower or insufficient academic achievement, you may want to apply to master's programs first.
Capella University is accredited by the Higher Learning Commission and offers several online bachelor's, master's and doctoral programs in psychology including both clinical and non-clinical specializations. Capella University also offers three online CACREP-accredited programs: MS in Clinical Mental Health Counseling, MS in School Counseling, and PhD in Counselor Education and Supervision, as well as a COAMFTE-accredited program, MS in Marriage and Family Therapy. Click here to contact Capella University and request information about their programs.
Step 2:
Research graduate psychology programs and narrow your choices. You may ask professors for recommendations. You may study the research interests of faculty at programs you are considering. Make sure that if you plan to practice as a licensed psychologist in a clinical capacity, your program meets state standards. If your program is accredited by the American Psychological Association, it will. Other programs may be accepted. The program must be housed in a regional institution and must have a clinical or applied focus.
Step 3:
Complete your doctoral studies. You typically spend significant time carrying out independent research and developing a dissertation. You will have at least a year of practical experience. Practicum experiences allow you to carry out some psychologist duties under guidance. You will likely have an internship requirement as well. This sometimes, but not always, means relocation.
Step 4:
Find a position where you can complete your supervised practice requirement. This can be completed in as little as a year. Connecticut will credit pre-doctoral or post-doctoral practice but will not credit a required doctoral internship as meeting the supervised practice requirement. You will be termed a "resident" while completing your postdoctoral supervised practice. You may file paperwork for preapproval of your supervised practice hours.
Step 5:
Take the Examination for Professional Practice in Psychology and the state jurisprudence examination. Your preparation is drawing to a close!
*Find more detailed psychologist licensure information in Connecticut here.
Licensing Agency