Becoming a Psychologist in Colorado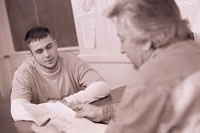 You don't begin formal training as a psychologist until after you have completed your bachelor's degree. You can make the decision after you have a degree in hand and have begun a career. You often find yourself with more opportunities, though, if you begin building your academic and professional resume with your end goal in mind.
<!- mfunc feat_school ->
Sponsored School(s)
Featured Programs:
Capella University is accredited by the Higher Learning Commission and offers an Online Bachelor's in Psychology. This program is modeled around the American Psychological Association (APA) Guidelines. APA does not accredit undergraduate psychology programs. Capella University, also offers several Online Master's and Doctoral programs in Psychology including both clinical and non-clinical specializations. Visit School's Website.

---

New York University - Master of Arts in Counseling and Guidance online - No GRE required. MPCAC-accredited. Complete in as few as 18 months. Bilingual concentration available. Scholarships available.Click Here to request information today.

---

Pepperdine University - Master of Arts in Clinical Psychology with an Emphasis in Marriage and Family Therapy online - Prepare to pursue licensure as an LMFT or LPC in as few as 24 months. No GRE required. Visit School's Website.

---
<!- /mfunc feat_school ->
If You Are a High School Student or Undergraduate
Step 1:
In high school, concentrate on earning high grades and building a foundation in laboratory science, composition, and advanced mathematics. There are a number of advanced placement courses that can give you a head start. In addition to psychology, you may consider research and statistics courses.
This is also a good time to begin volunteering. Special needs camps like Colorado Discover Ability use volunteers in their summer recreation programs.
Step 2:
Take admission examinations and apply to the university where you will do your undergraduate work. Students who enter doctoral programs in psychology typically pursue undergraduate majors in the discipline. At the least, schools will want to see that you have taken a substantial amount of psychology coursework. Your psychology coursework can not only confirm your career choice but help you determine what specialty you are interested in and where your clinical research interests lie.
Step 3:
Earn solid grades. Also consider joining a pre-professional organization. Students who join the Psi Chi honors society have leadership and community service opportunities. Those who become student affiliates of the American Psychological Association have leadership opportunities as well as access to many resources.
Step 4:
Build your research resume; this is particularly important if you want to enter a competitive PhD program and have your education funded. There will likely be professors on your own campus that welcome undergraduate students in their labs. There are many summer opportunities for outstanding students. For example, Colorado State University has sometimes hosted a Mind and Brain Summer Institute. If you have a strong enough record, you can compete for programs anywhere in the nation. Another good option is to do an undergraduate thesis.
If You Have a College Degree
Step 1:
Prepare for grad school admission. Take the GRE. Some schools require the psychology subtest in addition to the general portion. Make sure you have solid professional references.
If you are concerned about being accepted to a doctoral program in Psychology after completing your bachelor's degree due to lower or insufficient academic achievement, you may want to apply to master's programs first.
Capella University is accredited by the Higher Learning Commission and offers several online bachelor's, master's and doctoral programs in psychology including both clinical and non-clinical specializations. Capella University also offers three online CACREP-accredited programs: MS in Clinical Mental Health Counseling, MS in School Counseling, and PhD in Counselor Education and Supervision, as well as a COAMFTE-accredited program, MS in Marriage and Family Therapy. Click here to contact Capella University and request information about their programs.
Step 2:
Seek out a doctoral program. Consider the profile of the typical admitted candidate as well as the minimum standards. You may also consider the research interests of faculty members. If you will be seeking licensure in Colorado, your program must either be accredited by the American Psychological Association or meet equivalency requirements. You may apply to multiple programs but are generally expected to not hold more than two offers consecutively.
Step 3:
Begin doctoral work. Your early clinical experiences will come in the form of practicum. Later you will do an internship. Colorado requires one full-time year or two part-time years of internship. Internships in counseling or school psychology may be based on a calendar year or an academic year. Internships must either be accredited by the APA or judged substantially equivalent by the Colorado Board. In most cases, it is necessary to go through a formal matching process. The APA has a list of internships by state. The Association of Psychology Postdoctoral and Internship Centers (APPIC) is another resource; if you use any resource other than APA, make sure the experience meets state regulation.
Step 4:
Complete licensing requirements. You will complete at least a year of supervised post-doctoral practice.
You will apply for licensure by examination. You will need to take both the Examination for Professional Practice in Psychology (EPPP) and a state jurisprudence examination.
*Find more detailed psychologist licensure information for Colroado here.
Licensing Agency