Becoming a Psychologist in California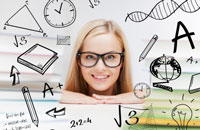 You will not earn full licensure a psychologist in California until at least a year after your doctoral degree has been earned. You may be working in the field, though — and earning an income — a good deal before that. Early planning can increase your options.
<!- mfunc feat_school ->
<!- /mfunc feat_school ->
If You Are a High School Student or Undergraduate
Step 1: Get a strong academic foundation in high school. Meanwhile, look into volunteer work and career exploration opportunities. Many California hospitals have summer volunteer programs for youth. You may also want to check out the Youth Community Service website (http://www.youthcommunityservice.org/index.php?topic=programs).
Step 2: Do well academically in college. UCLA notes that PhD applicants must have, at minimum, a 3.0 in the last 60 semester hours of undergraduate study – but that the average GPA of admitted students is higher: between 3.7 and 3.8. You will find some differences in average from institution to institution. In general, though, your options are limited with a GPA below 3.0 and are much better with a GPA above 3.5. Be aware that schools may also consider the rigor of your coursework.
Step 3: Go beyond the curriculum requirements. Most programs like to see some research experience. Options include volunteering in one of your school's psychology labs and/ or completing a thesis or other independent project.
Step 4: Begin preparing for graduate school admission. The GRE is a nearly universal requirement. Some programs also require the psychology subject test.
If You Have a College Degree
Step 5: Decide which programs to apply to. You will be able to choose between PhD and PsyD programs. PsyD programs are often more practice-oriented; they include a dissertation, but less emphasis on research. You may opt for an emphasis area like child/ family psychology, health psychology, clinical neuroscience, or even social justice. Some programs use a mentorship approach. Research-focused PhD programs often favor applicants with research interests that correspond to those of professors. Some students find it more realistic to apply to master's programs first.
If you are concerned about being accepted to a doctoral program in Psychology after completing your bachelor's degree due to lower or insufficient academic achievement, you may want to apply to master's programs first.
Grand Canyon University (GCU) offers a variety of Master's in Psychology programs modeled after the standards and recommendations set by the American Psychological Association with emphases in: Forensic Psychology, General Psychology, GeroPsychology, Health Psychology, Human Factors Psychology, Industrial and Organizational Psychology and Life Coaching. Three Bachelor's in Psychology programs are also offered. Click here to learn about GCU and their programs.
Pepperdine Grauduate School of Education and Psychology offers a Master of Arts in Psychology and a Master of Arts in Clinical Psychology with an Emphasis in Marriage and Family Therapy. No GRE required. Click Here to request information today.
Capella University is accredited by the Higher Learning Commission and offers several online bachelor's, master's and doctoral programs in psychology including both clinical and non-clinical specializations. Capella University also offers three online CACREP-accredited programs: MS in Clinical Mental Health Counseling, MS in School Counseling, and PhD in Counselor Education and Supervision, as well as a COAMFTE-accredited program, MS in Marriage and Family Therapy. Click here to contact Capella University and request information about their programs.
Step 6: Begin doctoral study. You will likely spend a big part of your first couple years taking courses that are required for licensure; this may include lab work and introductory practicum experiences. In the latter stages of the program, you will put significant time into your dissertation.
Step 7: Complete your pre-doctoral supervised practice. Formal internships must be approved by APA, California Psychology Internship Council (CAPIC), or the Association of Psychology Postdoctoral and Internship Centers (APPIC).
There are other ways in which you can legally practice at the pre-doctoral level. You may be licensed as a Psychological Assistant after you have reached the "candidacy" stage of your program; you will have completed at least three years of study and passed preliminary examinations. (You will also be eligible if you have earned a master's in an appropriate psychology discipline.)
Step 8: Take the EPPP, a national examination. You can be made eligible once you have completed degree requirements and accrued at least 1,500 hours of supervised practice.
Meanwhile, take any state-required coursework that was not included in your program. If you opt for a California psychology program, this will probably not be an issue. If you attend an out-of-state school, you will probably have minor deficiencies; you will need to document required contact hours in areas like child abuse and aging and long term care.
Step 9: Look into options for completing your postdoctoral supervised practice requirement. You will need at least 1,500 hours. You may hold any of several statuses, depending on the type of agency you work for and the capacity in which you are employed (http://www.psychology.ca.gov/applicants/quickref_laws.pdf). In all cases, you will fill out a supervision agreement at the onset.
Step 10: Take the CSPE, a state-specific examination.
*Find more detailed psychologist licensure information for California here.
Licensing Agency
California Board of Psychology http://www.psychology.ca.gov/