Becoming a Psychologist in Arkansas
Becoming a licensed psychologist is the culmination of years of study. You will not become one until you have completed a doctoral degree and a year of post-doctoral experience. You will begin carrying out psychologist duties in graduate school. You will lay your academic foundation well before that time.
<!- mfunc feat_school ->
Sponsored School(s)
Featured Programs:
Grand Canyon University (GCU) - offers an online Bachelor's in Psychology modeled after the standards and recommendations set by the American Psychological Association with emphases in: Forensic Psychology and Performance and Sports Psychology. Several Master's in Psychology programs are also offered. Click here to learn about GCU and their programs.

---

Pepperdine University - Master of Arts in Clinical Psychology with an Emphasis in Marriage and Family Therapy online - Prepare to pursue licensure as an LMFT or LPC in as few as 24 months. No GRE required. Visit School's Website.

---
<!- /mfunc feat_school ->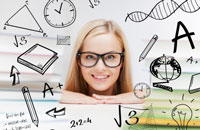 If You Are a High School Student or Grad
Step 1:
Take college prep and honors math, English, and science courses in high school. You may consider advanced placement psychology, research, and statistics.
Step 2:
This is also the time that you can begin volunteering with special needs populations. There are plenty of summer opportunities. Camp Aldersgate in Little Rock, for example, uses volunteers 14 and older to assist special needs campers (http://www.campaldersgate.net/index.php?option=com_content&view=article&id=6&Itemid=7).
You may have the opportunity to involve yourself with Health Occupations Students of America (HOSA). You can even join the American Psychological Association as a student affiliate.
Step 3:
Put in applications at four-year universities that have strong psychology programs. Undergraduate psychology courses give you a chance to explore different specialties, for example developmental psychology. Your GPA will be important throughout college, though some programs give more weight to the final two years.
Step 4:
Look for research opportunities. Research experiences can increase your options at the doctoral level. University-based PhD programs typically provide students with stipends for carrying out research or performing other duties, but they are often harder to get into than programs housed at professional schools.
You can peruse faculty profiles to see who has research interests similar to yours. Once you have some experience, you can add yourself to the registry of the Council on Undergraduate Research (http://www.cur.org/projects_and_services/registry/students/).
If You Have a College Degree
Step 1:
Spend time preparing for the GRE and preparing your personal statement. If you do not have a psychology B.S. or B.A., you will likely need to take some prerequisites. You may also need to seek out professional or volunteer experiences.
If you are concerned about being accepted to a doctoral program in Psychology after completing your bachelor's degree due to lower or insufficient academic achievement, you may want to apply to master's programs first.
Capella University is accredited by the Higher Learning Commission and offers several online bachelor's, master's and doctoral programs in psychology including both clinical and non-clinical specializations. Capella University also offers three online CACREP-accredited programs: MS in Clinical Mental Health Counseling, MS in School Counseling, and PhD in Counselor Education and Supervision, as well as a COAMFTE-accredited program, MS in Marriage and Family Therapy. Click here to contact Capella University and request information about their programs.
Step 2:
Seek out doctoral programs that are accredited by the American Psychological Association or that meets requirements found in state rules and regulations (http://psychologyboard.arkansas.gov/lawsRegs/Documents/2009_Rules_rev2.pdf). Your program will include a minimum of 80 graduate academic hours; it may be significantly longer. You will be required to spend a portion of the time in residency at the institution.
You may look for programs where faculty members share your research interests. It is often necessary to apply to multiple programs, but applicants are discouraged from holding more than two offers simultaneously or holding offers too long without response.
Step 3:
As a doctoral student, build your research and clinical skills. Arkansas sets minimum grade requirements in some core courses; exceeding these may increase your opportunities. Make the most of practicum experiences as this will increase your chances of success in the internship matching process. Eventually, you will need to provide the Arkansas Board with several references.
Step 4:
Apply for and complete your internship. Candidates applying for APA-accredited internships go through a formal matching process; this is the case with some non-accredited internships as well. If your internship is not APA-accredited, it will need to meet Arkansas regulations.
Interns are not required to hold state licensure in Arkansas. If your internship requires relocation, make sure you are familiar with the other state's state statutes and regulations.
Step 5:
Seek out post-internship employment. Arkansas requires one year of full-time supervised experience (or the equivalent if completed on a part-time basis) Candidates will apply to the Arkansas Psychology Board at this stage.
Step 6:
Take the EPPP licensing examination, once approved to do so by the Board.
*Find more detailed psychologist licensure information for Arkansas here.
Licensing Agency