Becoming a Psychologist in Alabama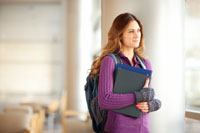 In order to become a psychologist, you must meet the education and training standards of the Alabama Board of Examiners in Psychology. Licensure requires a doctoral degree. While you do not have to make your career decision until graduate school, your early experiences can make you more competitive.
<!- mfunc feat_school ->
Sponsored School(s)
Featured Programs:
Grand Canyon University (GCU) - offers an online Bachelor's in Psychology modeled after the standards and recommendations set by the American Psychological Association with emphases in: Forensic Psychology and Performance and Sports Psychology. Several Master's in Psychology programs are also offered. Click here to learn about GCU and their programs.

---

Pepperdine University - Master of Arts in Clinical Psychology with an Emphasis in Marriage and Family Therapy online - Prepare to pursue licensure as an LMFT or LPC in as few as 24 months. No GRE required. Visit School's Website.

---
<!- /mfunc feat_school ->
If You Are a High School Student or Undergraduate
Step 1: Get a solid academic foundation during high school. Meanwhile seek out career exploration opportunities. Volunteering is a good option; the American Psychological Association (APA) lists autism camps among the options. If you want to learn about the psychology profession in depth, you can browse the APA website.
Step 2: Enroll in college and meet with an advisor early on. By maintaining a high GPA, you can increase the likelihood that you will make it into a competitive PhD program. The University of Alabama reports an average GPA of 3.6 for students admitted to doctoral programs; at some schools, the average is 3.7 or even 3.8. The depth and breadth of your coursework also matters – as does the vision that you articulate.
Step 3: Excel at the undergraduate level. You may aim for departmental honors. In addition to maintaining good grades, you will typically be required to complete a thesis.
PhD programs typically expect some research experience; you can generally find faculty members who are happy to take on undergraduate research assistants.
Step 4: Begin preparing for the graduate school application process. You will be required to take the GRE. The GRE psychology subtest may boost your application. Policies vary from school to school.
If You Have a College Degree
Step 5: If you are concerned about being accepted to a doctoral program in Psychology after completing your bachelor's degree due to lower or insufficient academic achievement, you may want to apply to master's programs first.
Capella University is accredited by the Higher Learning Commission and offers several online bachelor's, master's and doctoral programs in psychology including both clinical and non-clinical specializations. Capella University also offers three online CACREP-accredited programs: MS in Clinical Mental Health Counseling, MS in School Counseling, and PhD in Counselor Education and Supervision, as well as a COAMFTE-accredited program, MS in Marriage and Family Therapy. Click here to contact Capella University and request information about their programs.
Research accredited programs. If your doctoral program is not accredited by the American Psychological Association, you will need to demonstrate that it meets state standards. Alabama recognizes four specialties: clinical, counseling, organizational/industrial, and school psychology. Your education and training will determine your eventual scope of practice, at least within these broad areas.
A wide variety of concentrations are possible, from clinical health psychology to child psychology. PhD programs tend to place more emphasis on scholarly research than PsyD programs do.
Some prospective psychologists opt to study at the master's level first. Quite a bit of coursework may transfer. However, this depends on the program. State standards dictate that if you complete a master's degree and a doctorate through different schools, a majority of your coursework must be at the doctoral level.
Step 6: Begin doctoral studies. You will have required coursework in areas such as psychological measurement, experimental design, and individual difference. You will also carry out substantive research. When you apply for licensure, you will submit a reference from your dissertation advisor or the head of your program or department.
Step 7: Put in a strong performance in your field placements. You will begin with practicum. Your school may have its own psychology clinic; you may spend time in other community facilities.
Toward the end of your program, you will do an internship. This must be an organized training program. If your internship is APA-accredited or a member of APPIC, it will be accepted as meeting all requirements. There is typically a separate internship application process. A clinical internship will be at least 11 months. Your internship supervisor(s) will provide references to the Alabama Board.
Step 8: Apply to the Alabama Board of Examiners in Psychology. You will have a criminal background check.
Step 9: Complete your remaining licensing requirements, once authorized by the Alabama Board. You will need to take a national board examination, the EPPP. You will also need to take a state jurisprudence examination, the PSE.
*Find more detailed psychologist licensure information for Alabama here.
Licensing Agency
Alabama Board of Examiners in Psychology https://psychology.alabama.gov/