Is a Psychology Degree Appropriate Undergrad Preparation for a Counseling Career?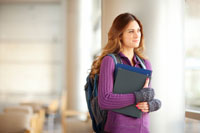 If you will be studying counseling at the graduate level, you have multiple degree options at the undergraduate level. It's more likely that you will pursue a degree in psychology than one in counseling — and not just because psychology is a more universally available undergraduate option. Undergraduate counseling programs often have, as the primary end goal, direct service in an agency setting. Psychology programs are quite varied, and some are designed to prepare you for graduate school.
<!- mfunc feat_school ->
<!- /mfunc feat_school ->
Some schools even offer a combined program that takes well-prepared students straight through from a bachelor's degree in psychology to a master's degree in counseling. If you don't select one of those programs, you can still tailor your experience so that you are well prepared for counseling admission. There are plenty of options. It's not that it's difficult to find a psychology program that prepares you for an eventual career in counseling. There are so many program choices that you will want to spend time deciding which best meets your needs.
Some students enter the counseling profession with master's degrees in counseling psychology. Such programs are likely to require a significant number of psychology prerequisites. They may also be highly competitive academically.
The BS in psychology can be in itself adequate for some entry-level counseling positions. This is more likely if the program includes a clinical or direct service component. However, you won't be in private practice and your role won't include diagnosing mental disorders; there are generally quite a few restrictions. A common role would be providing a variety of counseling-related services to individuals with addictions.
Advantages of an Undergraduate Psychology Degree
Psychology has as its foundation, the bases of human behavior – something you'll draw from a lot as a counselor. If you take an undergraduate course in psychopathology, you'll have some foundation when you take it again at the graduate level. You can also use your undergraduate years to explore electives related to cognitive and emotional processes, everything from health psychology to decision making. You may even have the option of doing a concentration in an area like mental health.
Counseling programs often give some preference to applicants who have degrees in related fields; this includes psychology. Nova Southeastern University, for example, lists psychology, along with education, behavioral science and social work, as related fields. It's important to realize, though, that there are a lot more slots in undergraduate psychology programs than there are in graduate level counseling programs, so it's not just about being a psych major but about making the most of opportunities the major offers.
Program Options
Your needs may be different than they would be if you were vying for graduate school in a more science-heavy discipline like clinical psychology or medicine/ psychiatry. The University of Missouri notes that a B.A. can be a good option for students planning on graduate school in human service fields like counseling. You will want some exposure to research and statistics, but you won't necessarily need a big block of science courses.
Graduate counseling admission committees consider experience as well as academic coursework. Ideally, your psychology B.A. or B.S. can provide you with both. You will like want to consider internship options. You frequently get academic credit for internship even if it's not mandatory. Some schools offer a lot of support in finding placements. Placements can include crisis centers, shelters, psychiatric units, and advocacy organizations like NAMI.
Ultimately, it's not just about your major or your courses, but your academic and professional references — and how well you do tying everything together in your personal statement.