Psychology as Preparation for a Market Research Analyst Career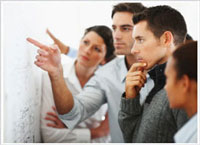 Can you become a market research analyst with a psychology degree? Yes. The BLS reports that professionals enter the field with degrees in a range of disciplines, for example, statistics, business administration, and social sciences. Prospective market research analysts benefit from taking coursework in a variety of fields including marketing, research methods, statistics, communications, and social sciences (psychology, sociology, and economics).
<!- mfunc feat_school ->
Sponsored School(s)
Featured Programs:
Capella University is accredited by the Higher Learning Commission and offers an Online Bachelor's in Psychology. This program is modeled around the American Psychological Association (APA) Guidelines. APA does not accredit undergraduate psychology programs. Capella University, also offers several Online Master's and Doctoral programs in Psychology including both clinical and non-clinical specializations. Visit School's Website.

---

New York University - Master of Arts in Counseling and Guidance online - No GRE required. MPCAC-accredited. Complete in as few as 18 months. Bilingual concentration available. Scholarships available.Click Here to request information today.

---

Pepperdine University - Master of Arts in Clinical Psychology with an Emphasis in Marriage and Family Therapy online - Prepare to pursue licensure as an LMFT or LPC in as few as 24 months. No GRE required. Visit School's Website.

---
<!- /mfunc feat_school ->
If you opt for the psychology major, you will want to plan your studies so that you have plenty of quantitative coursework as well as qualitative coursework. Statistics and research methodology are common undergraduate psychology requirements, but not all students get a lot of exposure.
Grand Canyon University (GCU) offers an online Bachelor's in Psychology modeled after the standards and recommendations set by the American Psychological Association with emphases in: Forensic Psychology and Performance and Sports Psychology. Several Master's in Psychology programs are also offered. Click here to learn about GCU and their programs.
Southern New Hampshire University (SNHU) offers online Bachelor's and Master's in Psychology programs with several emphases to select from as well as a CACREP accredited online Master's in Counseling. Click here to learn about SNHU and their programs.
Coursework Options
In selecting psychology, you are selecting a broad discipline; it includes social, organizational, and experiential psychology as well as mental health. The undergraduate psychology program typically allows you to explore different sub-disciplines.
One thing about the major: It's versatile. You don't have to be committed to a specific career path at the onset, but it's good to narrow it down. You'll need a different skill set for market research and related fields like marketing psychology or survey research than you would for therapy. The American Psychological Association has recommended meeting with an adviser freshman year to begin planning — and having the target knowledge and skill set identified by the end of sophomore year (http://www.apa.org/gradpsych/features/2009/first-job.aspx). The APA has provided resources to help you do just that (http://www.apa.org/education/undergrad/psych-career.aspx).
Your psychology department may offer various special programs, for example, a supporting minor in marketing psychology. Even if your school doesn't offer a formal track or concentration, you may have the opportunity to choose from an array of electives. There may, for example, be courses in applied social psychology and in decision making processes. UC-San Diego even has one titled "Happiness" which poses the questions of what makes people happy "youth, fortune, marriage, (or) chocolate?":– a question that has a good deal of interest to marketers (http://www.psychology.ucsd.edu/undergraduate-program/courses/index).
Degree Options
Some schools offer both a BS and BA in psychology and include more quantitative coursework in the BS track. The University of Missouri, for example, requires BS psychology students to take a more difficult statistics course. It also requires them to take a 12 – 13 unit 'science track'; a BS student can opt for statistics or mathematics as their 'science track'.
The BS can make it easy to get in plenty of statistics coursework. On the other hand, BA psychology programs sometimes allow students more choices of minor; this would allow a student to select something more business-related. (And even if the program only requires one basic research/ statistics course… there's no reason you can't take a little extra.)
Internship and Research Options
Psychology departments are typically very supportive of undergraduates who want to do research. Among the duties you may perform at this level: data collection. By volunteering in a lab, you can also cultivate relationships with faculty members and grad students. You will likely also have an internship option –another chance to make connections.
You may have the opportunity to do a thesis. This will likely involve data analysis. The skills relate to your career goal, even if the topic doesn't involve market research. You may be able to explore a market-related topic.
Selling Your Skills
The American Psychological Association notes that the skills psychology majors develop are widely sought after, but that graduates need to sell themselves and their experiences. You will need to articulate what skills you have gleaned.